For over 25 years BobCAD-CAM has developed and provided CAD/CAM software for CNC shops throughout the global manufacturing industry.  As CNC software has evolved, providing faster, smarter, and easier ways to innovate, machine, and bring products to market more affordably, the need for high tech CNC cutting strategies has continued to drive software development.  As a result, CNC shops can improve workflow, reduce expenses through using newer toolpath functionality designed to shorten cycle times, reduce tool wear and more. BobCAD wanted to provide the best MultiAxis CNC machining functionality for the lowest possible costs to shops without compromising.  With this as their mission, they found like-minded CAD/CAM component developer ModuleWorks out of Aachen, Germany. ModuleWorks is a leading provider of CAD/CAM software components, providing 3 Axis machining, 5 Axis machining and CNC simulation technology as used by many of the leading CAM systems and specialist manufacturing companies. In early 2009 the two companies met in Southern California to discuss implementing a battery of advanced machining capabilities to accommodate the manufacturing industry's need for powerful CAD/CAM technology.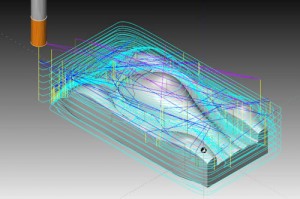 "When we decided to go after the full 4 & 5 Axis CAM market we wanted only the best machining technology with the intention of providing it at costs that were more competitive than the rest and then follow up with a variety of service and support benefits that make adding these products to CNC shops a very easy decision," said BobCAD-CAM President Larry Pendleton.
Three years later, BobCAD-CAM is now the first CAD/CAM software provider in the world to offer advanced high speed adaptive roughing for MultiAxis CNC milling with their new Version 25 5 Axis PRO software. The "Adaptive Roughing" machine strategy in BobCAD-CAM ensures that the cutting conditions remain constant by maintaining "Constant Engagement" of the cutter, which offers great improvements compared to conventional constant "offset" type roughing strategies.
Big benefits to using this strategy include:
a.  Constant Cutting Conditions
b.  Ability to use higher feed rates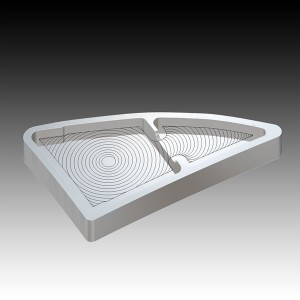 c.  Extended tool and machine life
d.  Reduced overall machine cycle times on jobs
The fact that high speed adaptive roughing can be used in 2, 3, 4 and 5 axis machining scenarios opens the door for literally anyone in CNC milling or CNC routing to benefit from the technology. Using high speed constant tool engagement, incremental passes to progressively cut corners with support for intermediate slices, and rest roughing can dramatically reduce machine time.  This also aids in providing the best finishes possible. BobCAD-CAM V25's added support of multi-core CPUs cuts down complex toolpath calculation time. For more information on the new BobCAD-CAM 5 axis PRO CAD/CAM software contact BobCAD-CAM directly at 877-262-2231 today or download a free trial version at www.bobcad.com.