August 16, 2023, | Extracting Iso Curves, Silhouette, Advanced Holes.
In our last two surveys, you requested CAD as the topic for the blog, video and webinar. In this blog, we will review the most recent CAD design functions added to the last three BobCAD CAM versions. The idea is for you to take advantage of many of the existing functions in the system you may not be aware of to help you create and repair all types of models. In this post, let's explore: Extracting Iso Curves, Silhouette and Advanced Holes.  
Extracting Iso Curves:  
This helpful function allows us to pull geometry from existing surfaces to help repair geometry on imported parts, create guide geometry for complex 4th and 5th-axis processes, or anything else you may need.  As we know, 3D wireframe geometry can be crucial for setting boundaries, creating surfaces or defining entry and exit points for CAM processes. While you've always been able to create wireframe geometry from solids and surfaces, you can now pull 3D wireframes directly from the isometric curves in existing surfaces.  You'll find the Extract Isocurve function in the Utilities group of the Create 2D tab.  

Iso curves can be generated in the U direction, V direction or both simultaneously. U represents the surface direction and V is perpendicular to the surface.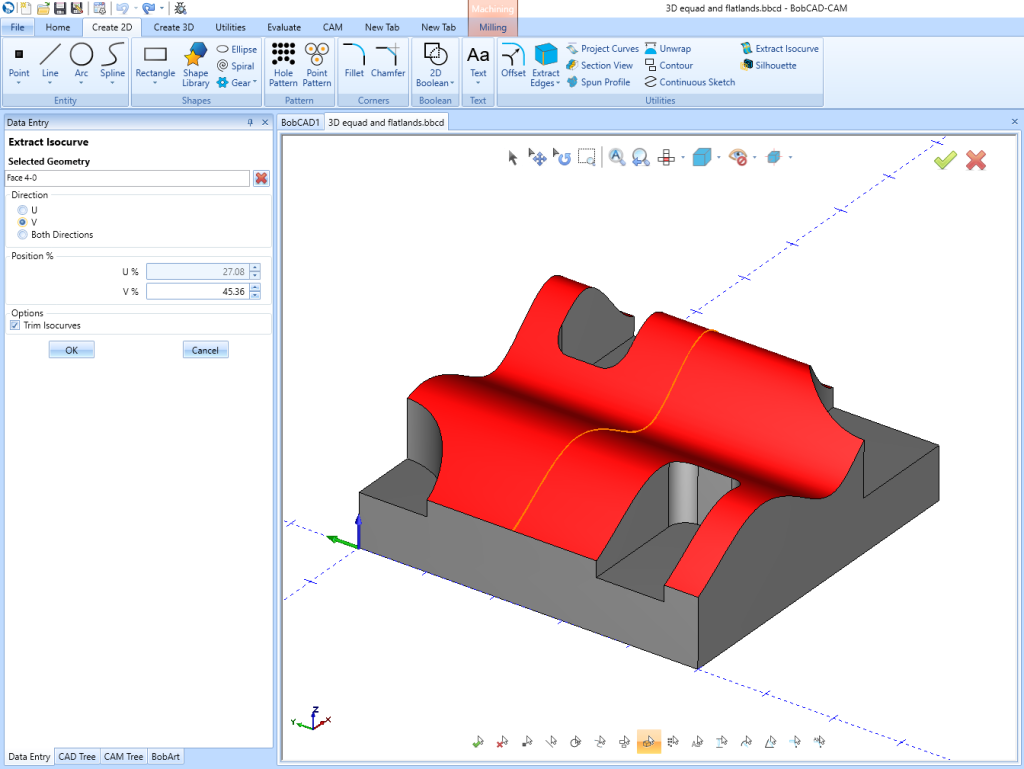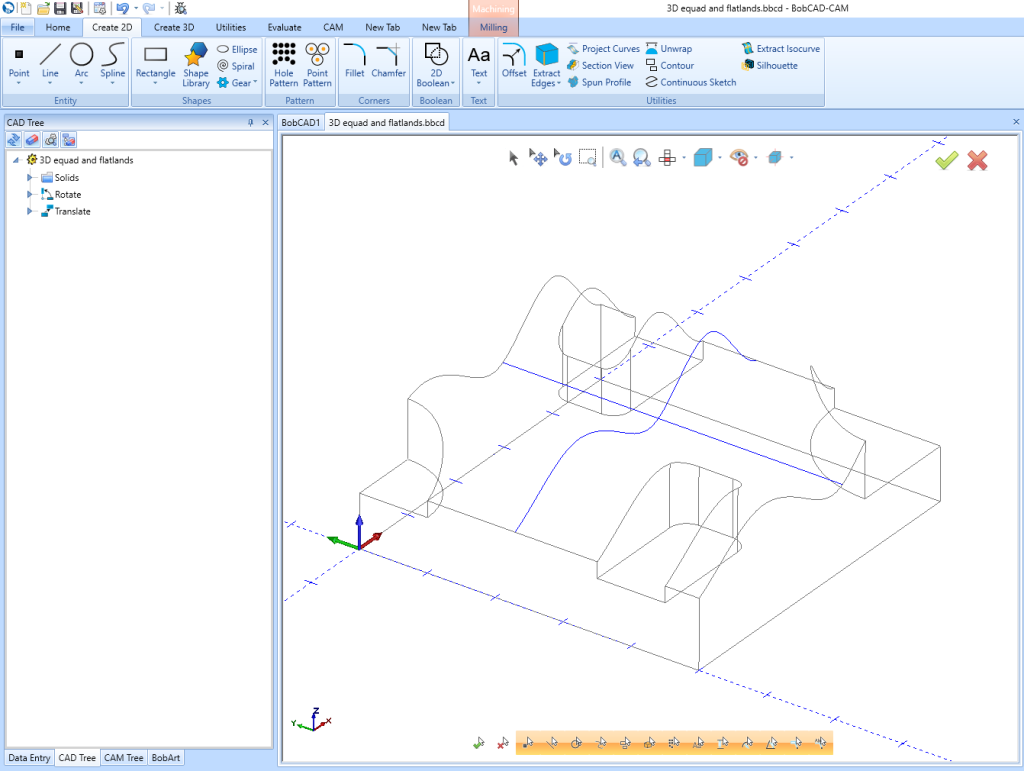 As you can see in the video, we now have a clean 3D wireframe that fully adapts to the surface, regardless of its complexity.  
Silhouette:  
This function allows us to generate 2D wireframe geometry from any type of solid element, including stereolithography, or STL files.  While you've always been able to toolpath solids and STL files, for the first time ever you can automatically pull the projected outline (silhouette) as 2D wireframe! This is a night and day difference from having to attempt the creation of accurate reference geometries manually.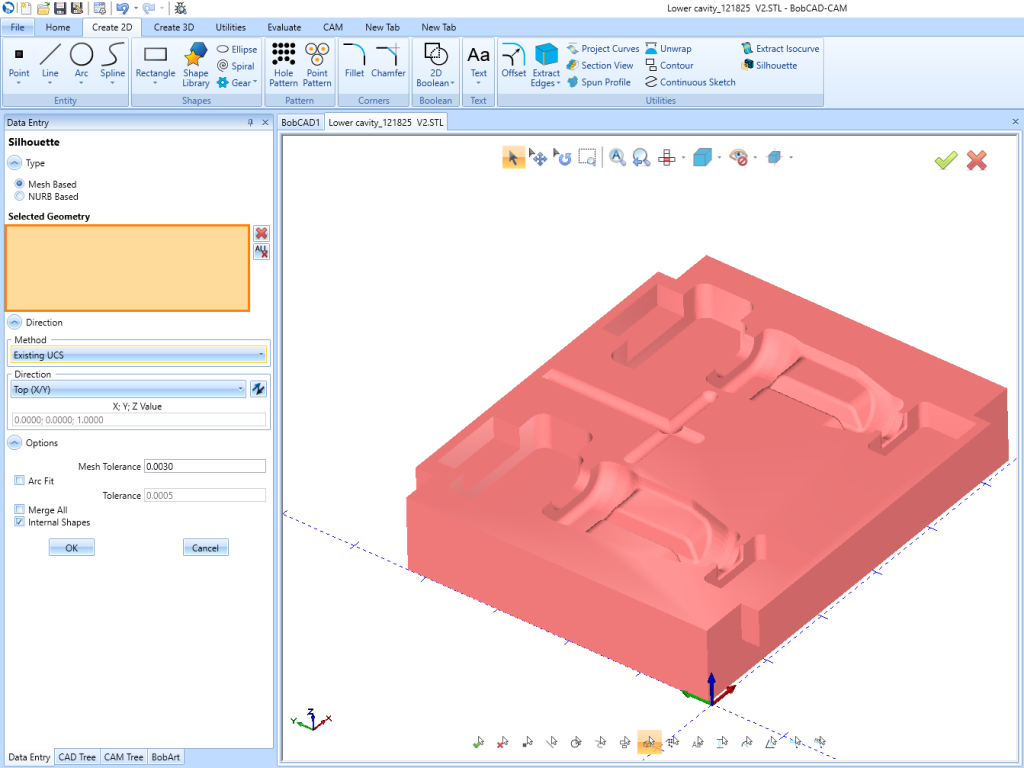 Now, simply select the Silhouette function in the Utilities group of the Create 2D tab. From there, choose the model type, define the geometry orientation in the Direction section, and set your creation options!  
  As you can see in the video, we've generated 2D wireframe geometry which perfectly outlines the STL file. Remember the Silhouette function works in any direction on any user coordinate system, allowing you to generate contours from any position.  
Advanced Holes:  
This function is a game changer in 3D design and can be a huge help in programming processes. With it you can create accurate 3D hole geometry automatically, as well as tag holes with thread properties which can be utilized in Hole Recognition to automatically apply the proper tools! Simply pick your hole positions, enter the necessary data in the Advanced Holes fields and you see the previewed 3D holes update in real-time!  
  Using this function streamlines and simplifies the design. With this function, just create points at the top of your intended hole positions and select Advanced Holes in the Solid Boolean group of the Create 3D tab. With the Advanced Holes dialog open, choose your and select the type of hole you want to create. Whether you choose Chamfer, Counterbore or Hole, just update the parameters and the preview will show you exactly what you'll be getting. When the parameters are correct, simply press OK, and the system will create the holes directly in the solid. What's more, this creates an Advanced Holes feature in your CAD Tree which can be edited just as easily any time you may need!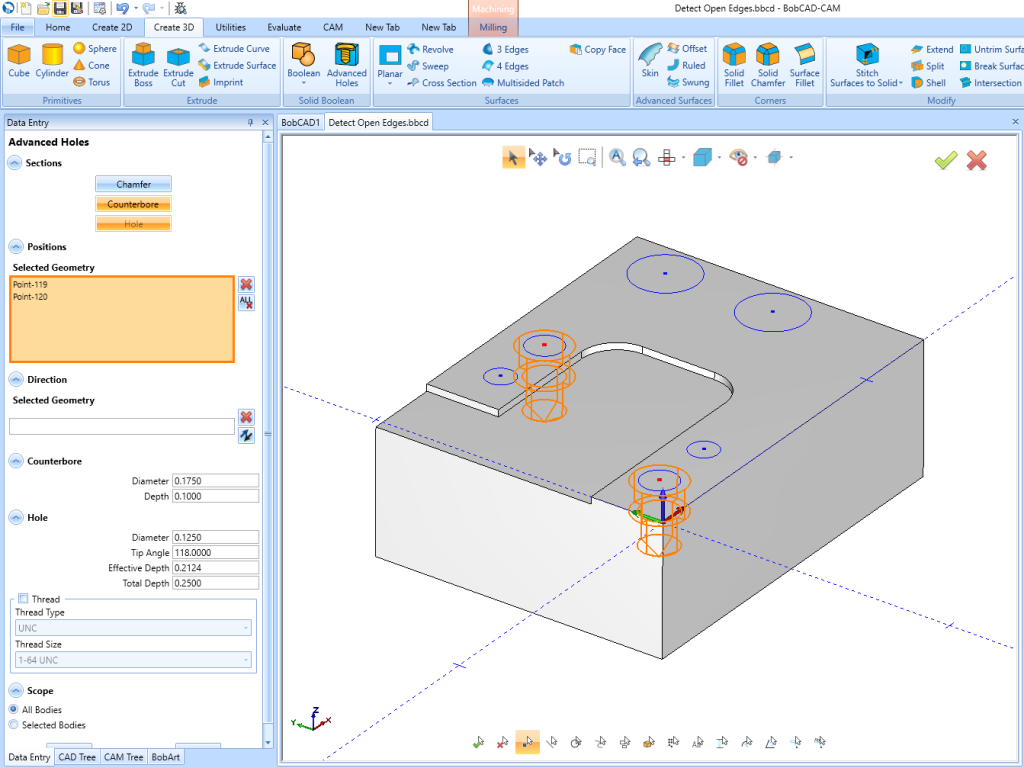 In addition to creating a solid which can now be checked for accuracy against cut stock in the simulation, BobCAD-CAM recognizes these properties directly in the CAM environment with the Hole Recognition feature. Used hand in hand, these two features will reduce hole programming significantly and will change the way you work!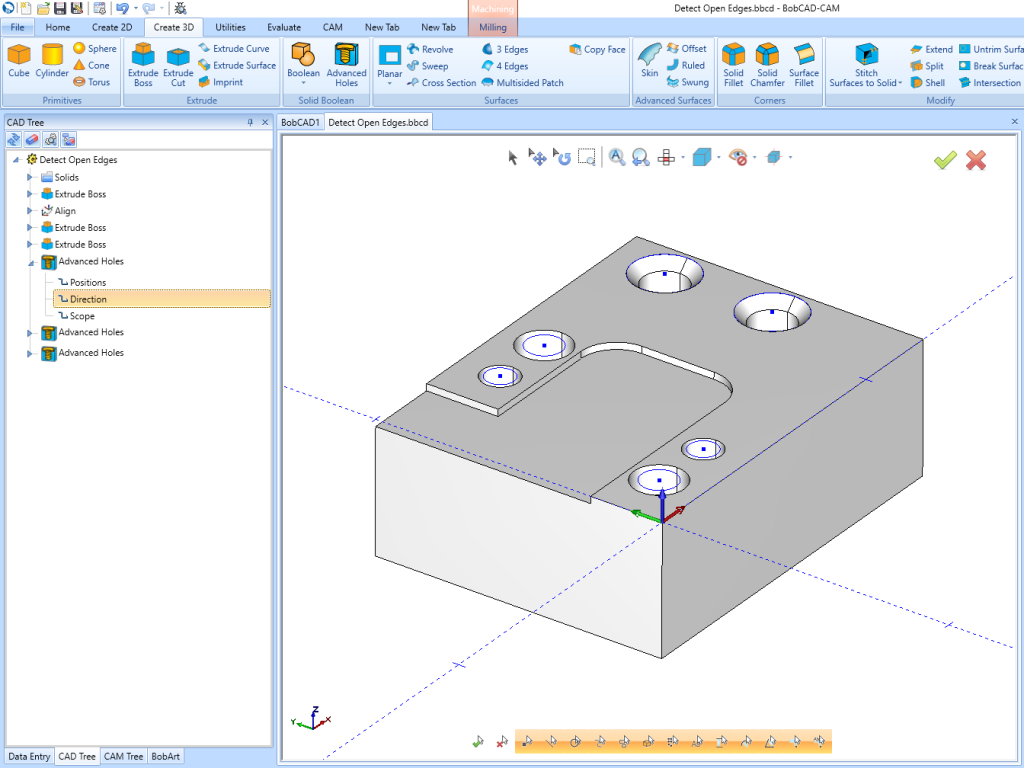 Hope this helps! Please join us next time for more content so we can give you the tools you need to be the best user you can be!  
Author: Tatiana Rojas
Remember to sing up to our training event next week August 23 at 1 PM Eastern Time
Click here the join us.