Enhanced features to Mill 3 Axis in BobCAD-CAM V30 gives machinists greater control over their finished product than ever before. Mill 3 Axis comes in 3 dynamic versions: Standard, Pro and Premium; Premium being the newest module in V30. Customers who require unsurpassed control and the best possible surface finishes from their CAD-CAM software can look no further than 3 Axis Premium. It features 8 additional surface based Toolpaths: Parallel Cuts, Cuts Along Curve, Morph Between 2 Curves, Parallel to Multiple Curves, Project Curves, Morph Between 2 Surfaces, Parallel to Surface, and Flowline. Flowline and blended Toolpaths, along with the ability to do undercutting, is just the start in the new module.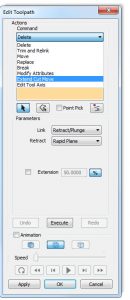 Mill 3 Axis Standard for BobCAD-CAM V30 also brings some heavy hitting features that are sure to enhance productivity. BobCAD-CAM's CNC software now puts the power in your hands to edit anything you want about any portion of the Toolpath without affecting the rest of the Toolpath you're happy with. This can be done with our Toolpath Editor. The Toolpath Editor gives you the ability to delete Toolpath entities and relink them, trim Toolpath, move Toolpath entities, replace Toolpath with user drawn CAD geometry, extend Toolpath, modify the Feedrates of Toolpath entities, and even edit the tool axis orientation for 5 Axis Toolpaths.




Subscribe to BobCAD-CAM's CNC Software Blog
Join your fellow manufacturers! Get BobCAD-CAM's latest CAD-CAM articles straight to your inbox. Enter your email below: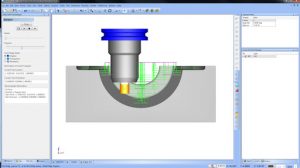 Lastly, Mill 3 Axis Pro brings exciting features that provide more control over the tool and smoother material entries and exits. Dynamic Holder Collision Avoidance is a new option in the powerful Advanced Roughing operation for removing material from a 3D model. Allowing users to confidently use shorter tools, the holder is gouge checked against the stock during the Toolpath calculation! This is unlike any other gouge checking done before, because the Toolpath calculation knows exactly what material it has already removed, and adjusts the Toolpath to provide collision free Toolpath without the user having to give anything more than accurate tool information! New Arc Leads option for adaptive high speed machining toolpaths enables you to utilize vertical tangential arc moves as default Lead-in/ out segments instead of linear leads. The Advanced Z Level Finish now offers the ability to perform undercuts with lollipop tools and t-slot cutters. Not only can you cut undercut areas of the model, you can specify to cut only the undercut areas of the model!
To try the new Mill 3 Axis features for yourself by downloading a trial of our latest CAD-CAM software. Get it HERE.
You're one click away from subscribing to BobCAD's YouTube channel. Click the link below for tips, how-tos and much more!

Comments are closed.