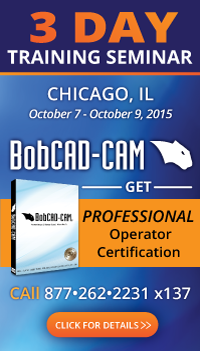 CAD-CAM software developer, BobCAD-CAM, Inc., is scheduled to host a new training event in Bedford Park, IL, just outside of Chicago. The event will bring together manufacturing professionals, including CNC programmers and CAD designers, for a 3-day CAD-CAM training seminar to be held October 7-9, 2015.


The BobCAD-CAM seminar series provides a unique opportunity for CNC programmers in the Chicago area to learn from an instructor with over 40-years of real-world CNC machining experience. Trainer, Sorin Nenu, has unparalleled software knowledge and ability to connect with his students. Having been a BobCAD-CAM user since Version 1, Sorin offers unmatched product knowledge on both new and older versions of the software.
Attendees can expect to learn about features and tools they can use to increase productivity and efficiency in their CNC machining operations. The experienced CAD-CAM instructor will provide detailed feature walkthroughs, examples, and daily Q&A sessions with the group.
The seminar is scheduled to provide a complete software overview of the BobCAD-CAM Mill and CAD modules. Students will cover software shortcuts, CAD 2D & 3D drawing, file imports, a CAM tree overview, and information on 2-5 axis toolpaths, simulations, and more.  See the full curriculum here…
Separate evening courses are offered following the day classes to provide training on the BobART and Lathe CAD-CAM software modules.
BobCAD-CAM training events are for users at all experience levels. The classes are designed to provide a fast and easy way to learn CAD-CAM software. This also represents one of the easiest ways for interested parties to attain professional operator certification on the BobCAD-CAM software.
CLICK HERE to register for this event. For more information or to register by phone, call Gus Kasimos of BobCAD-CAM at [877] 262-2231 ext. 137.
BobCAD-CAM offers training seminars year-round in cities around the globe. Visit the BobCAD-CAM Training Schedule to find out when a CAD-CAM software instructor is coming to a city near you.
New BobCAD-CAM Version 28 CAD-CAM Software
Ready to take your CNC programming to the next level? Try the new BobCAD-CAM today.

Here are additional links for information on CAD-CAM training solutions:
Summary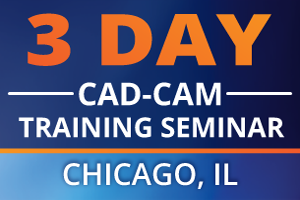 Article Name
New Training Seminar for CAD-CAM Software Headed to Chicago
Description
CAD-CAM software developer, BobCAD-CAM, Inc., is scheduled to host a new training event in Bedford Park, IL from October 7-9, 2015.
Author
Nick Erickson | BobCAD-CAM