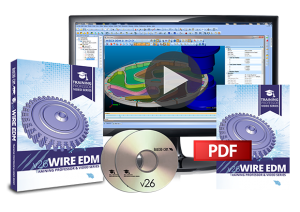 Earlier this year BobCAD-CAM released its all new 2 & 4 Axis Wire EDM CAD-CAM software to the manufacturing industry sparking a huge interest across the Wire EDM manufacturing sectors. The new Wire EDM software had been rebuilt from the ground up offering all of the new CNC programming technology that the latest Milling system offered in terms of using machining wizards and more, bringing the Wire EDM system current and giving EDM programmers a major advantage in using CAM to machine their parts. With so many new features having been added, the BobCAD-CAM training team went into action compiling a large line of multimedia video training movies to teach new users the product and bring existing customers up to speed fast. The set includes over 30 videos that walk you through the fundamentals and functionality of the software and includes videos for both 2 & 4 Axis programming. Also included is a special digital workbook and additional CAD files that are used in the videos so that users can work along with the instruction they are seeing in the movies. It's simply a faster way to learn and can be watched virtually anywhere a video can be played.
Shop Training Video Sets HERE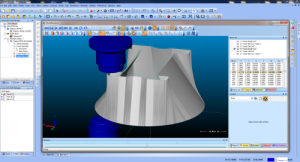 The BobCAD-CAM Wire EDM software is capable of programming both 2 & 4 Axis parts. The software offers support for open and closed shape profile machining and provides a productive software environment allowing you to rapidly produce wire toolpaths and G-Code programs for Mitsubishi, Japax, Brother, Fanuc, Sodick and other CNC Wire EDM's. Newly added Machining Wizards remove the guesswork from programming even the most complicated parts. Along side of all the new features is the ability to simulate 2 or 4 axis programs. This is completely new to the Wire EDM software and a valuable feature to eliminate costly mistakes at the machine.
Download a Free Wire EDM CAD-CAM Demo HERE