Can 3D Toolpaths save you programming and cycle time? What makes 3D Toolpaths different than 2D Toolpaths? Let's take a look at the advantages and disadvantages of 3D Toolpaths for 2D parts.

Geometry Selection:
With BobCAD-CAM V30 you can apply 2D Toolpaths to wireframe, surface edges and surface faces. So, no matter if your customer sends you a 2D DXF file or 3D solid model, we make it easy to setup and machine typical pockets profiles and edge breaks. 3D Toolpaths, on the other hand, can only be applied to surfaces and solids. If you're working with 2D drawings made of wireframe, you will need to convert to solids before you can start creating 3D Toolpaths.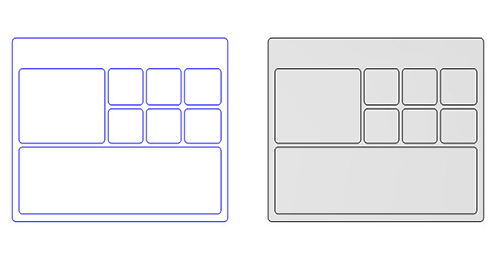 What about multi-depth pockets where you're programming parts that have pockets inside of pockets or different size pockets at different depths? 2D Toolpaths take more steps to program these types of geometry conditions. On the other hand, 3D Toolpaths take less steps to create Toolpath for different depth pockets. With 2D Toolpaths, you'll need to create multiple features, one for each pocket depth. With 3D Toolpaths you can machine all the pockets with different depths at one time.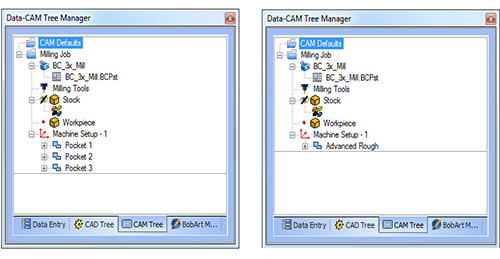 Stock Aware:

A big advantage of 3D Toolpaths over 2D Toolpaths is that they're stock aware. 2D and 3D Toolpaths are used to remove material. That's their main purpose, right? So, knowing where the material is located has to be an advantage and 3D Toolpaths have this advantage. 3D Toolpaths know where the material is and where it's not.

Accurately establishing your stock for 2D Toolpaths maybe have been something you overlooked or considered less important because 2D Toolpaths are not stock aware. In other words, they are applied to a boundary but are unknowing of where the material is an offer no efficiency to best target material. This is where 3D Toolpaths begin to earn their worth, saving you cycle time by removing air cutting and only creating Toolpath where there is material.

Design Changes:
What about design changes? In the 3D world, you can swap out a model quickly and recompute your Toolpath to account for any changes. It's not always that simple with 2D Toolpaths because of the tool's start location and directions that are manually set by the user. Users find updating for design changes with 3D Toolpaths to be much faster.

Subscribe to BobCAD-CAM's CNC Software Blog
Join your fellow manufacturers! Get BobCAD-CAM's latest CAD-CAM articles straight to your inbox. Enter your email below:
Conclusion:
3D Toolpaths are faster to program with for 2D machining features, right? Well, sometimes. It really depends on the file types you start with. Modeling all your parts in 3D using 3D Toolpaths to rough your parts is usually the fastest, easiest way to go. In the same breath, the fine control and comp options you have with 2D Toolpaths makes them the go-to option for fine-tuning part features out on the machine.

Most programmers will agree that a combination of both 2D and 3D Toolpaths makes for the greatest amount of flexibility and speed when it comes to part programming.

3D Advantages
Multi-depth Support
Fast Setup
Stock-aware
More Boundary Options
Catchall
2D Advantages
Cutter Comp
Fast Calculating Times
Step-by-step Approach
Call today to see an interactive live demo of BobCAD CAM V30! (877)-424-0975.
Try BobCAD's latest CAD-CAM software absolutely free, click here to get your trial version of V30 and let us know what you think; are 3D Toolpaths really faster?

You're one click away from subscribing to BobCAD's YouTube channel. Click the link below for tips, how-tos and much more!

Summary
Article Name
Program 2D Parts Faster with 3D CAD-CAM Toolpaths
Description
Can 3D Toolpaths save you programming and cycle time? What makes 3D Toolpaths different than 2D Toolpaths? Let's take a look at the advantages and disadvantages of 3D Toolpaths for 2D parts.
Author