New start point control for 3 Axis toolpaths makes changing where your tool starts easier. You can now pick or enter a start position, which gives you more control over your 3D projects for maximum performance. If the automatic starting position of your Z Level Roughing, Finishing, Equdistant offset, or pencil cutting strategies is causing a conflict, use the new start point control to change it.
Want to learn more 3D tips? Join us every Wednesday @ 1PM EDT.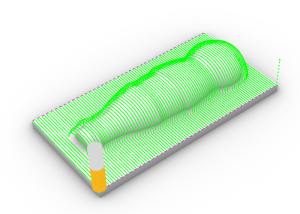 Are your machines and projects getting more complicated? Ready for CAD CAM software that helps you yield more throughput? Software that comes with training to ensure greater productivity! Call 727-442-3554 to learn about BobCAD CAM Membership Plans. ( not the renting software kind )
Click here to learn about what's included.