R&D Machining Inc was founded in 1997 when Lars Mommer's grandfather, Richard Sowell, and uncle, David Sowell, decided to leave their full-time jobs and turn their evening machining hobby into their day job. After years of building customer relationships and a great reputation, they finally moved from the small shop in Richard's backyard to the larger, current location, in Santa Rosa, California. This expansion allowed for better equipment and innovations in the machining process, upping the amount that could be produced and the quality.




In 2010 Lars Mommer joined the team at the age of 19 years old. "I worked as an operator for two years in the shop", says Lars, while also selling unused or outdated equipment on craigslist." he adds. "During this time, David "taught me everything he knew" with V21. I eventually went on to self-learn V24 via video training, the PDF, he finishes. Combined with that and purchasing better equipment they were able to get the shop where it is now. Which is now 4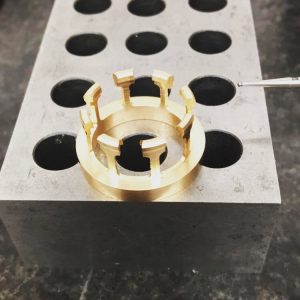 Employees, including Lars and producing parts for a variety of different customers.
R & D Machinery currently has BobCAD-CAM software with their two CNC Mills. A Mazak Nexus 510C and an Akira Seiki Performa VZ. They also have a lathe seat that they are working on putting into play with their shops Mazak Nexus QT200. Being a job shop they have used BobCAD-CAM to make all of their mill parts which vary from high to low precision Jobs.
"So far the most significant job that I have done was a part milled out of polycarbonate that should have been done on a 5 axis machine. Using V28 I was able to get the job done two times once with 3D milling and indexing around on our 4th axis and another time with the 4th axis standard. Using the software I was able to come up with fixtures and efficient toolpaths to get the job done, making the most sophisticated our shop had ever machine. After all the hard work I was pretty proud of the end result.", said Lars.


The first thing to do was to get the post processor dialed in the way that they wanted. "I would say pretty much all features have been used once", says Lars. Adaptive tool paths, saving features and tools, extracting wireframe, layers, and UCS have helped increase production. "The simulation is accurate and can get your program dialed before even making it to the machine which definitely saves money", he continued.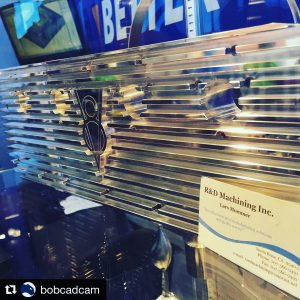 "I like to think I use the software to its capabilities, but in the business of job shops, you can pretty much only get as complicated as the work you are given. I like that I can have a full job set up in one file, reducing any chance of having multiples", says Lars. They have started with and continued to grow with BobCAD-CAM, so it is the only software the company has. "As far as bang for the buck it is by far the best out there", says Lars. "I have a Mac at home and was able to download Fusion 360, with all of the hype on the internet around it, I figured why not? After spending a couple evenings trying to figure it out with tutorials, I gave up on it due to the fact of it not being user-friendly in my opinion and I wouldn't use it anyway. We have a customer service plan and don't use it as much anymore, but in the beginning it was extremely helpful with getting me going", he finished.
Lars comments, "Great product!"
Lars Mommer | R & D Machining, Inc. | 707-566-9491



BobCAD-CAM has provided CAD-CAM CNC Software products to the global manufacturing industry for over 30 years. BobCAD-CAM software can be found to increase cnc productivity for many applications including educational and independent hobby home use. Products include machining technology for 2, 3, 4 & 5 Axis CNC Milling, Routing, WaterJet, Plasma and Laser machines as well as 2 Axis CNC Lathe. BobCAD-CAM also provides a variety of quality training products that include regional and online training classes or private sessions tailored to specific applications. Professional certification can be acquired as well as multi-tiered technical support solutions to their service customers.

You're one click away from subscribing to BobCAD's YouTube channel. Click the link below for tips, how-tos and much more!