BobCAD V34 and BobCAM for Rhino V2 offer 2 Axis and 4 Axis Wire EDM machining. These two types of Wire EDM cuts include inside, outside, and open cuts. If the taper angle is continuous, you would need to simply select a 2 Axis Wire EDM operation. We begin by creating a two-dimensional drawing of the outermost boundary of the path of the wire. Then, go to the CAM tab and select Wire EDM for your machining job. Select your machine, and then go into the Stock Wizard to define the stock you have set up at your machine.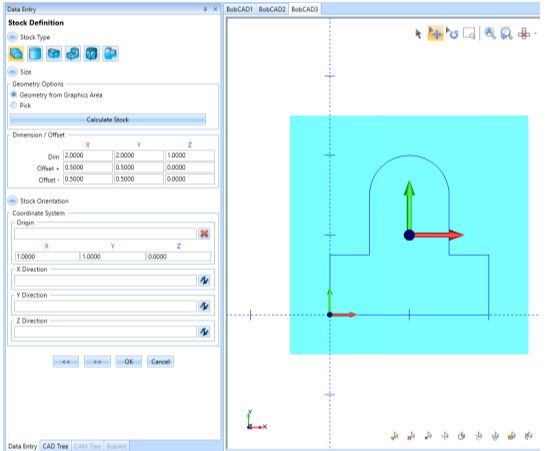 In this 2 axis wire example, we will create an outside wire cut to cut out this shape. After defining the stock, the next page is the Machine Setup location for our work offset. After setting the work offset, we right-click on the Machine Setup option in the CAM Tree. Then we select 2 Axis Outside for this operation.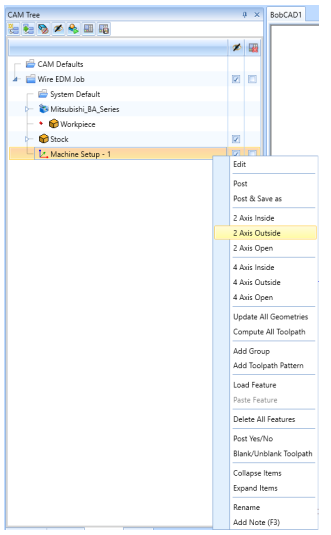 If the taper angle is continuous, you would need to simply select the Taper option on the next page after selecting the geometry of the wire cut. The next pages are for setting your lead-in and lead-out for each wire cut, as well as the cutting conditions such as the feedrate and the offset to compensate for the diameter of the wire.
Note: After you compute this Wire 2 Axis feature, you can go to the Wire EDM tab at the top of the software program. If you click on Cutting Conditions, this opens a page where you can set parameters for each wire cut. You can save default settings for each wire cut depending on the stock thickness and material type for each future Wire EDM job.
In this example, we can see the 2 Axis Wire EDM path with a flat 2 axis cut and one with a taper angle.


If the taper angle is not continuous along the path you are expecting to follow, you will select a 4 Axis Wire EDM operation. You would then select the type of cut accordingly, whether it is an open, inside or outside path. Then, select the top chain and then the bottom chain for the wire to follow along and sync up to both paths. In this example, you can see the circle as the top geometry selected and the rectangle as the bottom geometry selected.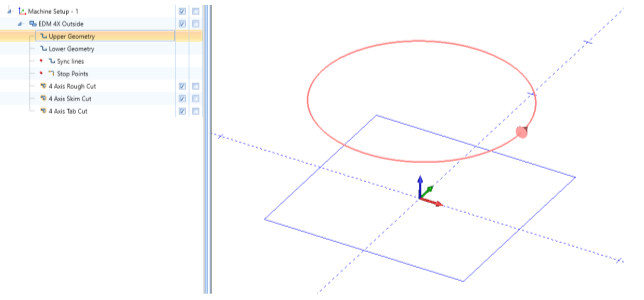 Right-clicking on the Upper Geometry and Lower Geometry options in the CAM Tree gives you the option to Modify Start Point. If the toolpath is crossing over each other in the 4 axis wire cut, you will most likely need to change the start point of these geometry selections. You need to make sure the start points line up correctly to create the desired 4 axis wire cut.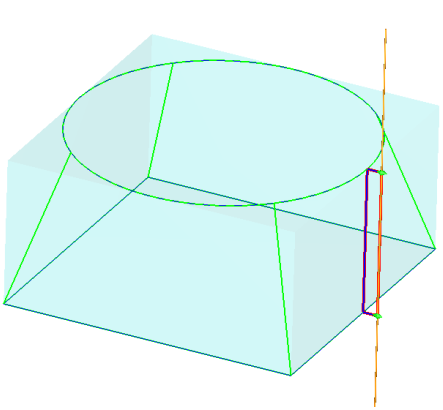 Download a free demo version of BobCAD-CAM today!
Here are a few resources to use for all things BobCAD-CAM:
Our support site allows you to submit a ticket to technical support online:
www.bobcadsupport.com
Our user forum is a community of other BobCAD-CAM users to share ideas and projects in BobCAD-CAM:
forum.bobcad.com
BobCAD-CAM has provided CAD-CAM CNC Software products to the global manufacturing industry for over 30 years. BobCAD-CAM software can be found to increase CNC productivity for many applications in aerospace, automotive, production manufacturing, mold making, general machining, woodworking as well as the medical manufacturing industry, consumer products, musical instruments, custom fabrication, defense industry and many others due to the products ability to automatically generate NC programming code for such a wide variety of CNC controllers. BobCAD-CAM software is also found in educational institutions throughout the world as well as independent hobby home use. Products include machining technology for 2, 3, 4 & 5 Axis CNC Milling, Routing, Waterjet, Plasma and Laser machines as well as 2 Axis CNC Lathe. BobCAD-CAM is modular allowing shops to start off at a reduced technology level and add technology as it is needed including an add-on, BobART, for artistic machining. Unique technology includes adaptive high-speed machining multiaxis milling and routing which is a first in the world of CAD-CAM software. BobCAD-CAM also provides a variety of quality training products that include regional and online training classes or private sessions tailored to specific applications. Professional certification and multi-tiered support solutions are available. Contact BobCAD-CAM directly for more information at 877-262-2231 or 727-442-3554
New Feature Spotlight – Tell us the topics that are most important to you Click Here