Tech Tuesday is a weekly blog that addresses some of the most common questions and concerns that I hear throughout the previous week from users of BobCAD-CAM software. Both customers and future customers are more than welcome to leave a comment on what they would like to see covered for the following Tech Tuesday. Enjoy!
This week is the final breakdown of BobCAM's V6 for SOLIDWORKS, segueing right along from last week's CAM Enhancements in V6. This Tech Tuesday will highlight the operation enhancements that have been applied to BobCAM V6 and how that translates to a smoother workflow and greater control for the programmer.
Rough Turning Operation
Turning and roughing operations received several enhancements that provide further control of your software.
Various Pattern Types
If you are one of the customers that requested an offset style pattern to assist with cast, or custom stock and general efficiency, then you will love this new option to use with Lathe roughing. You're welcome.
Sorting
Once you choose a pattern, you can pick from a Standard or Zig Zag style cut to get the exact desired effect you need. It's that easy.
Overlap
As your tool is engaged in a pass, it's usually a good practice to continue up the geometry in order to save steps in the roughing pass. With Overlap, you can see not only the Lead-out options but also what goes on before the lead out of each pass. Easily set each of your passes to track back to the distance of the previous pass, to do nothing before the Lead-out or even create a customized distance to track back to.

Subscribe to BobCAD-CAM's Tech Tuesday Blog
Join your fellow machinists. Get the latest Tech Tuesday CAD-CAM articles sent to your inbox. Enter your email below:
Rough Allowance
Rough Allowance allows users to add an additional pass to the groove roughing, clearing any steps and leaving a consistent amount of material for your finishing operation.
Pattern Repeat Operation
The Pattern Repeat operation for turning and facing received multiple enhancements, equaling greater control.
Various Pattern Types
New to BobCAM V6, Pattern and sorting options for the Pattern Repeat operation. Users can choose between the Standard or Offset Pattern, setting either Standard or Zig Zag style sorting options.
Sorting
Get exactly what you are looking for using Sorting. Once a pattern is selected, choose from a Standard or Zig Zag style cut.
Basic Finish Operation
Looking for the control you want? The Pattern Repeat operation for both turning and facing has seen a few enhancements, putting the control in your hands.
Various Pattern Types
As you finish a Lathe part, many variables go into how the part should be finished. In previous versions of BobCAM, breaking up a finishing pass into separate directions would mean separate features. With the pattern options now accessible in the in the turn finishing pass, BobCAM V6 offers a way to Alternate between face and turn methods in one operation. As you choose the Alternate method over the Standard Continuous method, you are afforded the option to Face Vertical Only, Turn Diameter Only, handle both scenarios simultaneously and even decide whether to include or exclude angled walls using a checkbox.
Groove Roughing Operation
The Rough Grooving operation, widely used for turning and facing, has seen many enhancements that mean more control for the user.
Various Pattern Types
For your roughing of grooves, we now offer multiple patterns and sorting methods to give you many more roughing strategies than you had before. Standard, Single Pass and Zig Zag are the options available to you.
Sorting
Let's say you select a Standard pattern, you can pick the order of the cuts to get what you are looking for. More control, as promised.
Alignment
If you select a Single pass, you can choose how to line the tool up with the constraint of the selected geometry.
Rough Allowance
Now you can add an additional pass to the groove roughing to clear out steps & leave a consistent amount of material for finishing.
Multiple Depth Grooving
Now users can break grooves into multiple depths by the user. Users have control over whether to use multiple depths and how to organize them. This option allows for use in conjunction with pecking, allowing material to be removed one layer at a time.
Processing
Sometimes the selected geometry causes the Toolpath to be broken into separate areas along a number of passes. With Processing, you can decide how the tool moves between the separated areas of Toolpath.
Groove Finish Operation
Used for both turning and facing, our Groove Finish operation received some strong upgrades in V6.
Force Down Cutting
Tools for grooving are far more effective when force is applied straight down into the material. The Groove Finish operation allows you to force that downward cutting motion, with that set as the default method. Additionally, you can apply a customized overlap amount so the final pass overlaps the first. Users will see a much more clean finish that both the customer and machinist will appreciate.
Corner Type
How the tool moves from one set of geometry to another can make a huge difference in the final result. Sometimes, users want to round the tool around corners to de-bur the part. Other times parts require sharp and precise corners. BobCAM gives you a Sharp Corner option for the Toolpath creation and compensation calculation, giving you a hybrid of the 2 methods.
Rapid On Entry Options
Approach options were added to the Rapids page. Along with the rapid exit options, you will be able to control the approach options, controlling every aspect of your Lathe job.
Leads
BobCAM's new Lathe module comes with tons of new lead options to complement the custom lead that was already available in previous versions.
Thanks to all the wonderful, new operation enhancements, your workflow has been streamlined, allowing you to be more productive in less time. Thank you for reading another Tech Tuesday; see you next week.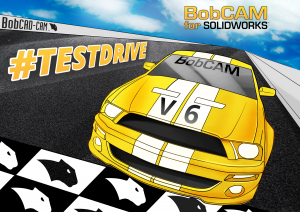 Start your Test Drive.
Have questions? Call us at 877-838-1275.

You're one click away from subscribing to BobCAD's YouTube channel. Click the link below for tips, how-tos and much more!

To see if BobCAD's Mill Turn software is right for your shop,
Summary
Article Name
Tech Tuesday: BobCAM V6 CAM Software Operation Enhancements
Description
This Tech Tuesday will highlight the operational enhancements that have been applied to BobCAM V6 and how that translates to a smoother workflow and greater control for the programmer.
Author