Tech Tuesday is a weekly blog that addresses some of the most common questions and concerns that I hear throughout the previous week from users of BobCAD's CNC software. Both customers and future customers are more than welcome to leave a comment on what they would like to see covered for the following Tech Tuesday. If you missed last week's Tech Tuesday, click here.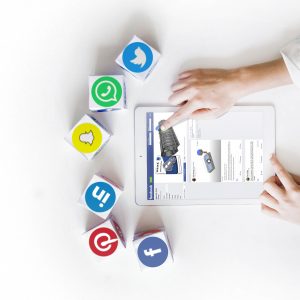 Welcome back to another wonderful edition of Tech Tuesday! More so now than ever before, we are connected all over the world with social media. This is why we created several different CNC software-related Facebook groups for people from all over to connect and share like-minded ideas, solutions, problems or projects. As we all know, time is of the essence when working on a project and if it's outside of your support hours, what can you do? You can always turn to one of the Facebook groups listed below and get real-time answers! These groups are by no means meant to act as an extension of BobCAD-CAM's Support Team, but they are populated and monitored by BobCAD employees, as well as machinists with many years of experience.

One of the best-kept secrets in these groups is our Facebook Live videos that are done regularly, typically addressing a comment or concern a member had in one of the discussions. Who knows, the next Facebook Live may be done after the topic you were talking about! So, come be a part of the fun and share those awesome projects you have! Learning CAD-CAM doesn't have to be hard. Our goal for these communities is to bring people together, learn from each other, but most of all have a good time doing it. Comment away and post often; we love seeing your projects! Please be aware of and respect the rules below; we don't want to remove anyone for abusive behavior.

BobCAD-CAM Facebook Group Rules:
No promotional posting. Sharing tips and relevant CAD-CAM-related content is acceptable.
No bashing or harassment – we are all here to help one another and bullying or negativity will result in you being permanently removed from the group.
Do not message any members of this group without their prior consent. This includes for commercial purposes as well.
Posts with links to other Facebook pages or non-relevant pages may be removed at the moderator's discretion if deemed to be in violation of group rules.
NO naming and shaming. We are all adults. If you have a personal issue with a fellow member, please handle that matter privately. If you have a legitimate issue with a group member's conduct outside of the group, please bring this to the attention of the admins or by emailing

[email protected]

.
BobCAD-run Facebook groups are intended to be used as a collaborative community effort & are not an extension of the BobCAD-CAM Support Team.
Subscribe to BobCAD-CAM's Tech Tuesday Blog
Join your fellow machinists. Get the latest Tech Tuesday CAD-CAM articles sent to your inbox. Enter your email below:

Main BobCAD-CAM page
(public group)
This is our main Facebook page. This is where you will see a lot of posts from us, not other users.

BobCAD-CAM United Kingdom User Group
(closed group)
Designed for BobCAD users across the pond, this is where people living in the UK can share like-minded ideas, problems or resolutions. Also, we love just seeing what projects you are working on!

BobCAD-CAM Group
(public group)
This group is a public group, populated by people from all over. This is one of our more participated-in groups.

BobCAD After Dark Group
(closed group)
Inspired by Al DePoalo, this group is very popular among users and gets a lot of engagement from users; a great place to get a problem solved!

BobCAD-CAM Texas User Group
(public group)
Our Texas BobCAD users are so plentiful that we had to give them their own group! This is a Texan's paradise.

BobCAD-CAM India User Group
(closed group)
This group allows our users in India to connect and share like-minded ideas, problems and resolutions.

BobCAD Australia User Group
(closed group)
For BobCAD users in Australia, connect with fellow Australians! Make sure to share your projects, we love seeing what you are up to!

BobCAD-CAM Canada User Group
(closed group)
For our neighbors to the North, we created the BobCAD Canada user group. Share projects, offer solutions and have fun with it.

BobCAM for SOLIDWORKS
(closed group)
For BobCAM and Solidworks users, we created the BobCAM for SOLIDWORKS group. Get the latest BobCAM/Solidworks related material as well as interacting with other SW users.
Now that you know what is available to you, feel free to join and participate in as many of the groups as you want to. The more the merrier. All we ask is that you answer the question, "Why do you want to join?".
Not on Facebook? Feel free to add these other social networks of ours for the latest content!

BobCAD-CAM YouTube Channel

BobCAD-CAM Instagram

BobCAD-CAM Twitter

BobCAD-CAM LinkedIn


BobCAD-CAM Reddit
Thank you very much for reading another Tech Tuesday; see you next week!
Get Your V31 Demo Here & Start Cutting Today

You're one click away from subscribing to BobCAD's YouTube channel. Click the link below for tips, how-tos and much more!


BobCAD-CAM has provided CAD-CAM CNC Software products to the global manufacturing industry for over 30 years. BobCAD-CAM software can be found to increase CNC productivity for many applications in aerospace, automotive, production manufacturing, mold making, general machining, woodworking as well as the medical manufacturing industry, consumer products, musical instruments, custom fabrication, defense industry and many others due to the products ability to automatically generate NC programming code for such a wide variety of CNC controllers. BobCAD-CAM software is also found in educational institutions throughout the world as well as independent hobby home use. Products include machining technology for 2, 3, 4 & 5 Axis CNC Milling, Routing, Waterjet, Plasma and Laser machines as well as 2 Axis CNC Lathe. BobCAD-CAM is modular allowing shops to start off at a reduced technology level and add technology as it is needed including an add-on, BobART, for artistic machining. Unique technology includes adaptive high-speed machining multiaxis milling and routing which is a first in the world of CAD-CAM software. BobCAD-CAM also provides a variety of quality training products that include regional and online training classes or private sessions tailored to specific applications. Professional certification and multi-tiered support solutions are available. Contact BobCAD-CAM directly for more information at 877-262-2231 or 727-442-3554.