This Tech Tuesday will be focusing on our new Probing module and some exciting new features we offer in this module. Here is this example part file, where I have grouped all of the milling operations together first, and then I have grouped together all of the probing cycles. All of these probing cycles in this group are used for checking the measurements on the finished workpiece. The probing cycles in this part file include reviewing the measurements of the face of the part, the outer profile, the depth and width of the pocket, the width of the island, and the diameter of the holes.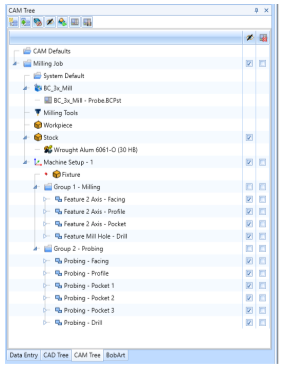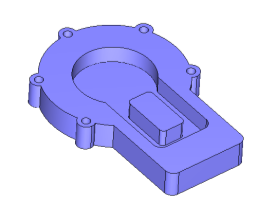 The probing operation has the same workflow as creating a milling operation. To begin creating a probing cycle, you must first right-click on the Machine Setup in the CAM Tree. Select Probing from the options, then select the geometry that the probing tool will be measuring. The example image shown below is toolpath from one of the probing cycles.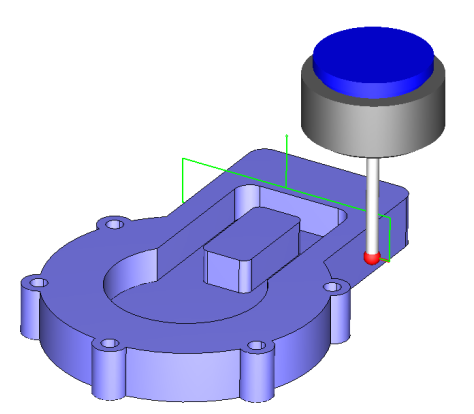 In our probing operations, you simply need to select the surfaces of the workpiece you are intending to measure. In this example probing operation, I only needed to select these two outer surfaces on the outside of the workpiece. BobCAD will automatically determine the probing cycle to utilize based on the geometry selection. This probing cycle is a Web from one surface to another on the outside of a part. You also have the ability to set the clearance plane. This way the probing tool will retract high enough to avoid any collisions.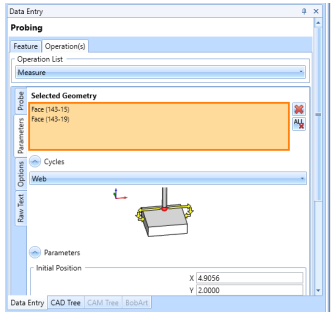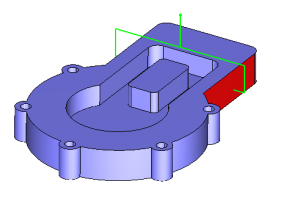 You can define your probing tool in the tool page of each probing operation. From this tool page, you can choose a different tool from the Tool Crib, go into the Tool Crib to add tools from your Tool Library, and also enter tool-specific data manually into the Tool Data Section of the page. This page will also assist in assigning Tool Numbers and Offsets, as well as Speeds and Feeds. You can enter the values for each parameter of your tool geometry, and you can also define the custom geometry of the probing tool by drawing the profile of the probing tool.
You can set the protected feedrate on this tool page as well. Protected Feedrate sets the speed at which the probe will move in protected positioning mode. In this mode the probe will stop if it comes in contact with an obstacle.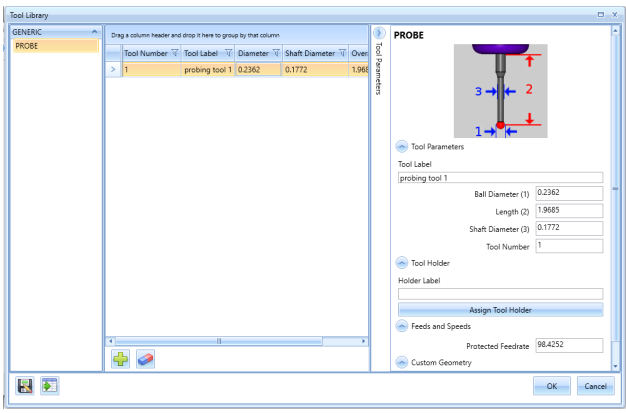 Download a free demo version of BobCAD-CAM today!
Here are a few resources to use for all things BobCAD-CAM:
Our support site allows you to submit a ticket to technical support online:
www.bobcadsupport.com
Our user forum is a community of other BobCAD-CAM users to share ideas and projects in BobCAD-CAM:
forum.bobcad.com
BobCAD-CAM has provided CAD-CAM CNC Software products to the global manufacturing industry for over 30 years. BobCAD-CAM software can be found to increase CNC productivity for many applications in aerospace, automotive, production manufacturing, mold making, general machining, woodworking as well as the medical manufacturing industry, consumer products, musical instruments, custom fabrication, defense industry and many others due to the products ability to automatically generate NC programming code for such a wide variety of CNC controllers. BobCAD-CAM software is also found in educational institutions throughout the world as well as independent hobby home use. Products include machining technology for 2, 3, 4 & 5 Axis CNC Milling, Routing, Waterjet, Plasma and Laser machines as well as 2 Axis CNC Lathe. BobCAD-CAM is modular allowing shops to start off at a reduced technology level and add technology as it is needed including an add-on, BobART, for artistic machining. Unique technology includes adaptive high-speed machining multiaxis milling and routing which is a first in the world of CAD-CAM software. BobCAD-CAM also provides a variety of quality training products that include regional and online training classes or private sessions tailored to specific applications. Professional certification and multi-tiered support solutions are available. Contact BobCAD-CAM directly for more information at 877-262-2231 or 727-442-3554
New Feature Spotlight – Tell us the topics that are most important to you Click Here