Introduction
We're thrilled to introduce the remarkable enhancements in BobCAD CAM V36. Our primary focus has been on making your experience smoother and more efficient, whether you're handling simple tasks like version migration or trying to find the perfect options to tackle complex parts. Regardless of your expertise level – whether you're a beginner, intermediate, or advanced user – there's something truly valuable awaiting you in this latest version. Join us for our upcoming webinar on September 6th – we can't wait to share these features with you!
Here are the top features you can look forward to:
Top Features
Contextual Toolbars :
Say goodbye to the hassle of right-clicking and hunting through menus! With the all-new Contextual Toolbars, your most-used commands are just a click away! Simply left-click an item, and like magic, the Contextual Toolbar springs to life, presenting your go-to commands on a silver platter. No more digging, no more delays. Instant access to the tools you rely on day in and day out. This simply efficiency update is here to elevate your experience.
| | | | |
| --- | --- | --- | --- |
| CAM Context Menu | CAM Contextual Toolbar | CAD Context Menu | CAD Contextual Toolbar |
| | | | |
Migration :
You asked, and we delivered! Introducing the ultimate solution for seamless version upgrades – the brand-new BobCAD Utility. Say farewell to manually copying files and tweaking your settings to match your previous version. We've streamlined the process to make your transition to the latest and greatest BobCAD version smoother than ever before. This is your hassle-free journey from your current version to the cutting-edge. With the BobCAD Utility, it's as simple as a few clicks. Are you updating your existing computer or transferring to a new one? Take your pick! Select your current and target versions, and watch the magic happen. But that's not all – you can even effortlessly update saved features to templates for a truly comprehensive upgrade. Don't let outdated processes hold you back. Upgrade to efficiency, upgrade to innovation – upgrade with the BobCAD Utility.
| | |
| --- | --- |
| Click Migration | The BobCAD Utility is launched |
| | |
Pack2Go / Unzip :
Imagine a tool that effortlessly transforms your current file and its entire support system into a single, shareable package. Say hello to the revolutionary Pack2Go utility – your gateway to hassle-free collaboration. With Pack2Go, file sharing becomes a breeze. No more worrying if your recipient has all the pieces to recreate your results. Everything – and I mean everything – is zipped up tight into one neat package. This means when you share a file, you're sharing a complete simulation and post-processing package. It's like sending a fully functional project in a virtual box!
| | |
| --- | --- |
| Click Pack2Go | The Pack2Go dialog is launched |
| | |
Multiple Selection in picking boxes :
Gone are the days of limited selections. With Multi-Selection, the possibilities are boundless. Whether you're navigating the CAM Tree, fine-tuning Feature Geometry Picking dialogs, conquering picking boxes in CAD features, or even curating your Tool Crib, you're in command like never before. This is a huge time-saver and will change how you interact with your projects!
| | | | |
| --- | --- | --- | --- |
| Select Multiple | Move Multiple | Done | Applies to CAD |
| | | | |
New Icons :
Experience the simplicity of a glance that speaks volumes with our new feature icons! While feature naming has been a reliable way to track job components, there's nothing quite like the power of instantly recognizable images, and these feature icons are perfect for helping you effortlessly sort through job components and maintain crystal-clear visibility.
| | | | |
| --- | --- | --- | --- |
| Milling Job | Turning Job | Wire EDM Job | BobArt Job |
| | | | |
Picking Manager :
The new chain selection options give you an enormous amount of power to select entire chains, from wireframe and solids alike, with speed and ease! Whether you're selecting geometry for CAD features or assigning geometry to CAM features, these new options have you covered! Use the Auto options to pick an entire chain with a single click, or the Manual options to navigate complicated chains as you see fit. Either way, you'll be selecting geometry faster than ever before!
| | |
| --- | --- |
| Single Edge Selection | Completed Chain |
| | |
Redesigned Tool Crib :
Get ready for a tool management revolution that will reshape the way you work! Our redesigned Tool Crib brings you unprecedented ease and efficiency by eliminating the need for separate windows or even adding tools one by one. The Tool Library is now seamlessly integrated within the same window, optimizing your workflow like never before. With our redesigned Tool Crib, you're in control. Select multiple tools and drag them effortlessly into the crib, and here's the best part – you can now directly save tools from your Tool Crib straight into the Tool Library. It's a game-changing innovation that puts you in the driver's seat.
| | |
| --- | --- |
| Old Tool Crib | New Tool Crib |
| | |
Copy Machine Setups :
Our latest version introduces an absolute game-changer – the ability to copy and paste entire machine setups. Imagine the possibilities: when you're building a machine setup that mirrors another, with similar features and settings, or even just a portion of them, you can now achieve it all with a few simple clicks. Gone are the days of painstakingly recreating setups from scratch. With this one simple trick, you can save time and effort by duplicating existing machine setups even between documents! It's the ultimate shortcut to precision and productivity, enabling you to breeze through projects with ease. Embrace the potential of reduced workload and heightened accuracy.
| | | |
| --- | --- | --- |
| Copy Entire Machine Setups | Paste Entire Machine Setups | |
| | | |
Advanced UI :
Say goodbye to limitations and embrace a level of control that's truly game-changing. Now, you have the power to bypass the Standard UI and dive headfirst into the Advanced UI which grants you access to a plethora of fresh options. Imagine having your fingers on the pulse of every single aspect of your operations, giving you the potential for precision, and performance like never before!
Custom tool shape roughing and finishing :
In this version toolpath calculation now considers the exact shape of custom tools created by the user! With this cutting-edge feature, your custom-designed tools come to life in your toolpath calculation. No more compromises, no more limitations – only a seamless integration of your uniquely shaped tools. Whether it's Advanced Roughing or Advanced Z Level Finishing, your operations are now elevated to an entirely new level.
| | |
| --- | --- |
| | |
Remove stock pillars :
The new Remove Stock Pillars option, for the Advanced Rough Adaptive pattern, allows you to finish the last of the stock on a given depth better than ever before. Here's the magic: when you're wrapping up stock removal at a specific depth, this ingenious feature leaves behind a precisely calculated cylinder of stock. This cylinder is then masterfully finished with a single spiral ramp motion. The result? A seamless elimination of adverse cutting conditions, including vibrations and heat generation. No more worries about whittling down stock to thin-walled islands – you're in control of the process.
| | |
| --- | --- |
| Remove Stock Pillars Off | Remove Stock Pillars On |
| | |
Shift distance :
Say hello to the Shift Distance/Stepover % value – your key to achieving seamless pass transitions and impeccable results. This feature allows you to dictate that each pass begins a specific distance beyond the last. The result? An impeccably smooth finish appearance that eliminates any abruptness in link moves. But that's not all – this innovation is a game-changer for your tools too. With gentler transitions, there's less force on your tools, extending their lifespan and optimizing performance.
| | |
| --- | --- |
| | |
Custom approach :
When entering a cut, you can now define the exact movements made to approach that cut. Rather than just selecting between approaching from clearance, rapid, feed, or other generic options, this gives you the ability to select a precise series of points that form the blueprint for your approach and retract motions. This isn't just about options – it's about crafting a bespoke path that aligns perfectly with your vision. No more compromises, no more limitations. With this simple feature, every cut becomes a masterpiece of precision and control.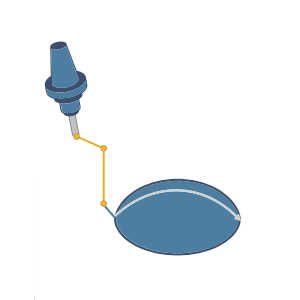 Avoid contact point on tip :
This new option allows you to automatically tilt the tool so the tip is not used in the deburring process. Since the very tip of the tool is the least efficient contact point in material removal, this is the perfect way to avoid it without needing to actively choose a specific contact point to use! It's a solution that offers both efficiency and convenience, giving you an edge in your deburring process.
| | |
| --- | --- |
| Off | On |
| | |
Automatic tool contact point :
To get the most efficient cuts, it's important to add an axial offset to create the proper tool engagement. In this version, this can be done automatically! No more guesswork or manual adjustments. With this innovation, you simply select the Cutting diameter, and the rest is taken care of. The correct axial offset is calculated based on your specific tool shape, ensuring your cuts are precisely aligned and as efficient as possible.
| | | |
| --- | --- | --- |
| Endmill | Bullnose | Ball endmill |
| | | |
Support for unconnected surface finishing :
Say goodbye to unnecessary complexity and hello to unparalleled ease in programming. Now, you no longer need to create multiple operations for unconnected surfaces. Instead, you can effortlessly select multiple surfaces and utilize the same settings in the same operation, eliminating the need for excessive inter-operation linking. This is more than a feature – it's a solution that simplifies your process and boosts your productivity.
Laser plasma waterjet – on/off :
Two new blocks have been added to intelligently call on/off codes for laser, plasma, and waterjet machines! Blocks 58 and 59 will output on/off codes respectively based on the next move in the code to ensure the on/off commands are timed properly, giving you the output you need.+
Helix output :
For the first time ever, helix output for mill threads and spiral entry is supported! For controllers that accept this output, it's a great way to output clean accurate code in the fewest lines possible!New post blocks included:
560. Allow Multiple Revolution Helical Move?
733. Prefix for Helix Total Angle? "PA"
734. Prefix for Helix Pitch? "KP"
Output note :
The new posting variable output_note allows you to include any notes added to your job in the output code!
For the first time, you can output the notes created in your:Jobs
Machine Setups
Index systems
Groups
Features
Operations
Y-Axis facing :
A new pole handling option in the Multiaxis Post page helps better support Y-Axis facing for Mill Turn jobs and other multi-axis operations. The new Find head or table fixed position to stay in limits option can be found in the Pole Handling group to give you another solution in multi-axis situations.