Computer Aided Design & Manufacturing software company BobCAD-CAM, Inc. is teaming up with SolidWorks Friday December 9, 2011 at 2:00pm Eastern Time to showcase the latest BobCAM for SolidWorks CAM solution to manufactures around the world.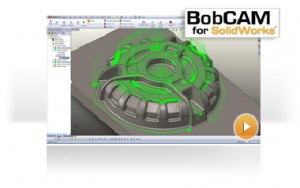 The CAD/CAM Slam Best Practices Webcast series was created by SolidWorks to showcase Gold Partner products that have proven to help manufacturers throughout the world become more successful in their productivity. In this case CNC machining through combining SolidWorks design power with the flexibility and machining functionality of BobCAM. If you have ever wondered how it is that amazing products can be brought to market faster and more successful than ever before, then this 1 hour webcast is a great way to gain a clear picture of exactly how this is achieved. Learn about SolidWorks, the BobCAM machining add-in and how it all comes together in streamlining design and machining successfully.
CAD/CAM Slam!
Best Practices Webcast Event
WHEN: Friday December 9, 2011 | 2:00 PM Eastern Standard Time
REGISTER: Online at https://www1.gotomeeting.com/register/133627216
ADMISSION: FREE
For more information on the new BobCAM for SolidWorks CAM add-In or if you have any difficulty registering for this event, contact BobCAD-CAM directly at 866-408-3226 or 727-683-2101.