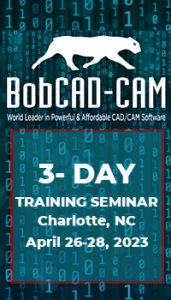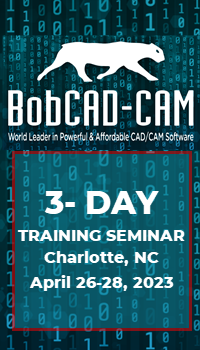 CAD CAM programming software developer, BobCAD-CAM, Inc., is scheduled to host a new CAD-CAM training seminar in Charlotte, NC from April 26-28, 2023. The seminar will bring together manufacturing professionals, including CNC programmers and CAD designers, for three days of in-depth CAD-CAM training.


The BobCAD-CAM seminar series provides a unique opportunity for CAD designers,  CAM programmers and g-code programmers alike in Austin  (and the broader area) to learn from an instructor with over years of real-world CAD CAM experience.
CAD-CAM Training – What To Expect
Attendees can expect to learn about features and tools they can use to increase productivity and efficiency in their CNC machining operations. The instructor will provide detailed feature walkthroughs, examples, and host daily Q&A sessions.
The seminar will provide a complete software overview of the new BobCAD-CAM Mill and CAD modules. Students will cover software shortcuts, CAD 2D & 3D drawing, file imports, a CAM tree overview, and information on 2-5 axis toolpaths, simulations, generating g code, and more. See the full curriculum here…
CAD-CAM Training  – Resources Before Attending
We recommend Plan members review the fundamentals before registering for this seminar.  The combination of BobCAD's online classes and this 24-hour seminar provided a " hybrid/blended learning model " that maximizes time spent learning while accelerating results for every attendee.
CAD-CAM Training  – Who is this best for?
BobCAD-CAM training seminars are for users at all experience levels. This seminar offers a proven method for learning CAD-CAM software with thousands of success stories. It's also one of the easiest ways to attain the BobCAD-CAM software professional operator certification.
CLICK HERE to register for this event. For more information call BobCAD-CAM at 727-442-3554.
BobCAD-CAM offers training seminars year-round in cities around the globe. Visit the BobCAD-CAM Training Schedule to find out when a CAD-CAM software instructor is coming to a city near you.
For more information on the variety of CAD-CAM training options offered, please visit the Training Section of BobCAD.com
New BobCAD-CAM Version 35 CAD-CAM Software
Ready to take your CAM programming to the next level? Try the new BobCAD-CAM today.

Here are additional links for information on CAD-CAM training solutions:
Summary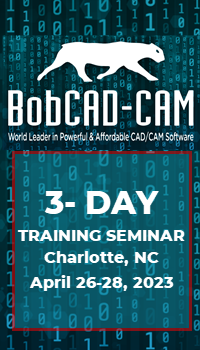 Article Name
New CAD CAM Training Seminar Coming To Charlotte
Description
CNC programming software developer, BobCAD-CAM, Inc., is scheduled to host a new CAD-CAM training seminar in Charlotte, NC April 26-28, 2023
Author