Small manufacturers and machine shops can now afford to compete with large scale operations in the CAD-CAM industry. BobCAD-CAM offers an affordable solution to modular CAD-CAM software. This means that designers can acquire only CAD design without having to pay for the CAM machining module if it's not necessary. Or that a machine shop that only needs 2D CAM performance can get it without having to pay for 3D because it could be added later.


BobCAD-CAM's software is not just for large scale manufacturers. It is perfect for home, freelance and small business designers too. It's a suite of products packing big shop power for a small shop price. Hundreds of design features allow the user to create simple or complex parts faster, including part dimensioning as well as creating prints with dimensions on them.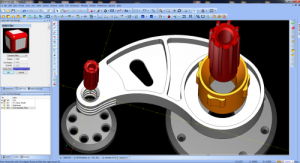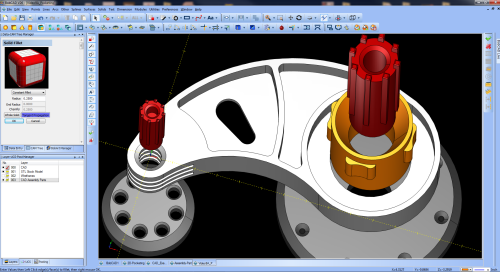 Focusing on CAD design, the CAD module provides hybrid modeling technology that allows the designer to work with wireframes, surfaces or solids in any order. Tasks such as drawing and editing are simplified by features that automatically extract wireframe geometry from a surface or a solid or build surfaces and creating solid extrusions from wireframes. The software's ability to quickly and easily translate geometry from other design products makes collaboration between designers and clients simple and efficient. Understanding that customers don't have time to wait, the software CAD file translators are top quality.
With the design phase complete, the software allows the designer to export popular file types that compatible with most CAM Software products, once again making it easier for the designer to collaborate with the client and machine shops that are ready to make chips.
The CAD software is priced so affordably that even the home designer or hobbyist can acquire it easily. This accessibility is what truly sets BobCAD-CAM apart from other leading CAD products. BobCAD-CAM software provides the largest body of powerful drawing and modeling tools in CAD for the cost, making the software available for anyone with a need to innovate.
BobCAD-CAM has provided CAD-CAM CNC Software products to the global manufacturing industry for over 30 years. BobCAD-CAM software can be found to increase CNC productivity for many applications including educational and independent hobby home use. Products include machining technology for 2, 3, 4 & 5 Axis CNC milling, routing, waterjet, plasma and laser machines as well as 2 axis CNC lathe. BobCAD-CAM also provides a variety of quality training products that include regional and online training classes or private sessions tailored to specific applications. Professional certification can be acquired as well as multi-tiered technical support solutions to their service customers.
Try a Free Demo HERE