CNC CAD/CAM programming software provides machinists with solutions to cutting their materials faster and smarter than by hand. One of the most used types of cutting operations is what is called, "Pocketing" or "Pocket Milling" within the 2D or 2.5 Axis cnc part programming world. Using this type of toolpath can make a big difference in the outcome of a finished part. The style of pocket milling toolpath can determine how long it will take to machine a part as well.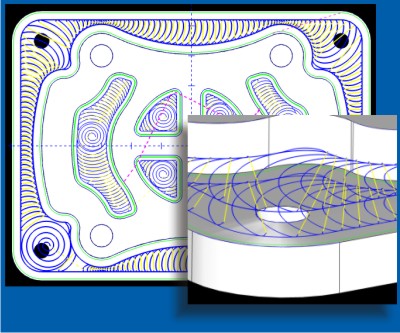 Pocket milling allows the machinist to use an end mill type cutting tool and machine away large amounts of material in a "Roughing" cycle prior to finishing the part. This saves time and efficiently maximizes the amount of material removal. There are different styles of pocket toolpath that include traditional lace or zig-zag (back and forth), concentric or offset In/Out and high speed cutting paths.
Here are some different pocket milling toolpaths that can be used in the machining process:
Pocket milling toolpath parameters within a CAD/CAM product will include data about Roughing and Finishing tools, Pattern selections, Cutting Direction options (Climb/Conventional), toolpath cutting angle and Step Over % input fields for the operator or programmer. There should also be data regarding side and bottom allowances for finishing and depth controls for single or multiple roughing steps. CAD/CAM systems such as BobCAD-CAM will allow the programmer to define single, even cutting depths based off of the overall depth as well as define or force depths. Lastly there should be Lead-In and Lead-Out commands or options for controlling how the tool enters the cut and exists the cutting. These include plunging, ramping and spiraling into and out of the cutting paths. The latest BobCAD-CAM software provides all of these options for defining the pocketing operations and more through a "Wizard" that steps the operator through the process basically removing the guesswork from figuring everything out. This is excellent for new customers and still provides all of the necessary options to make experienced users satisfied as well.
Download a free whitepaper on CAD-CAM-Software-ToolPath-Wizards.
Pocket milling toolpaths can be applied to open or closed wall regions of a part.
The latest BobCAD-CAM CNC Software provides advanced pocketing operations that are driven through machine wizards that remove the complexities and guesswork from programming.