Tech Tuesday is a weekly blog that addresses some of the most common questions and concerns that I hear throughout the previous week from users of BobCAD's CNC software. Both customers and future customers are more than welcome to leave a comment on what they would like to see covered for the following Tech Tuesday.
CAD CAM Software Make CNC Programming Easier
Shops of all sizes are pushed to setup jobs faster, rough stock quicker, and do it in less time.
How can CNC Software help you reduce setup times, and program faster? Keep reading this week's Tech Tuesdays to learn about features you can start using today for faster tomorrow.
CAM Tree Templates
Save your CAM Tree for future jobs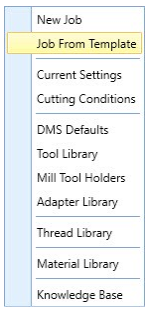 CAM Tree Templates allows users to save a previous job's CAM Tree and use on future projects. Huge time saver for those shops that standardize their workflow. Capture and reuse settings like, stock setup, zero position, tools, Machining Features, operations, and settings is made easy with CAM Tree Templates.
Optimize Your Setup
Change Jobs Faster
Where possible, using a standard setup reduces time. There is no one size fits all, but where you can standardize working holding, you'll get an instant productivity boost.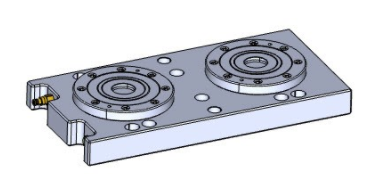 Subplate fixtures, zero point work holding, modular work holding systems and other quick change setups provide the much needed flexibility that helps to get parts out the door faster! Reduce the guesswork and standardize your setup.
A standardized setup could be as simple as always establishing a standard work offset location, to the type of jaws you use. Creating consistency in your process is the goal to achieve streamline workflows.
Probing
Automate for efficiency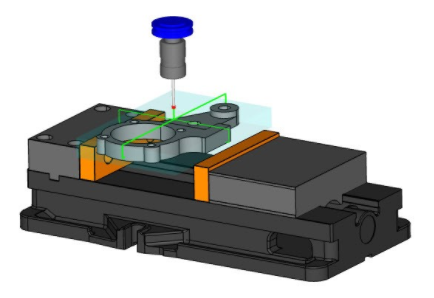 One of the most popular options for new cnc machines purchases is a probe setup. Automating touching off tools, picking up your work offset, adjusting tool offsets, and inspecting parts are some of the power play moves cnc probing brings to the table. If your machine has a probe, use it, if it doesn't get one and use it! CAM software makes programming cnc probes easier, the same way it makes creating g-code easier. Speed things up by using your geometry to drive probing cycles.
Advanced Roughing
Your go to roughing strategy for 3D models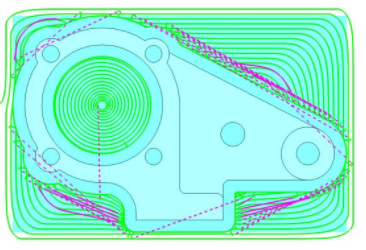 What makes Advanced roughing such a powerful toolpath operation? Not all toolpaths are created equal, nor do they all recognize stock. Many of BobCAD Mill Professional toolpath operations are stock aware, which is a huge benefit, especially when roughing. Using the defined stock geometry and the selected workpiece, users can speed up part programming by automatically targeting where the material is.
Want to eliminate toolpath that requires plunge moves?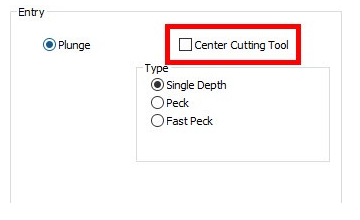 BobCAD's Advanced Roughing operation has toolpath features that simply make programming easier. Using the leads entry settings users can uncheck center cutting tool. This option will eliminate toolpath created in locations that requires the tool to plunge into stock requiring a center cutting tool.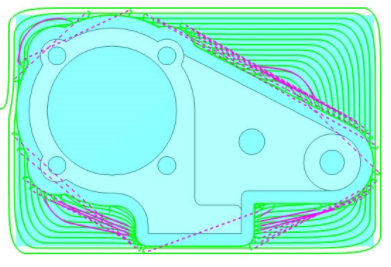 Automatic toolpaths like Advanced Roughing streamlines workflows by reducing geometry perpetration typically needed to target stock, like creating boundaries or "capping surfaces" to avoid tools plunging into part features.
Target Flatlands
If you model has multiple level "shoulders" how can you ensure they are targeted during the roughing process?

With this option turned on, additional toolpath will be created on the flat areas of your parts.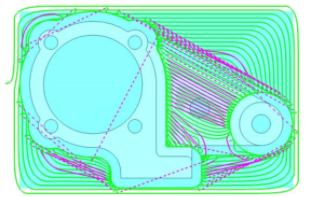 High Speed Machining
Increase throughput with faster cutting feeds.
This widely adopted toolpath technology is designed to speed up tool motion, one way it accomplish this is by trochoidal toolpath motion (smooth toolpath transitions) controlling tool engagement. How else can CAM software help speed things up.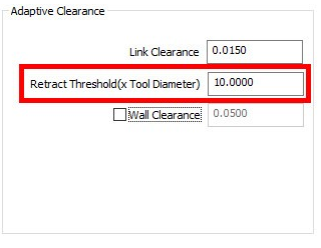 Use the links adaptive clearance settings to reduce or eliminate tool up /down retracts for reposition Using the retrack threshold you can force the tool to reposition while keeping the tool down, verse having a clearance move.
Fixture Selection and Avoidance
Avoid fixtures without using boundaries.
Holding your stock and avoiding clamps / fixtures is made a much easier process when using advanced allowance.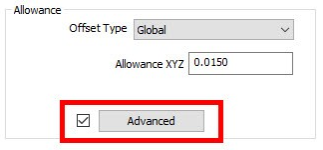 Using advanced allowance, you can select part features you want to leave custom amounts on stock on, or avoid all together. Part geometry selection is used to leave additional stock, and Fixture geometry selection is used to avoid. Use the check box for use setup fixture to avoid your CAM Tree selected fixture.

Try Advanced Roughing in BobCAD-CAM V33 today!
BobCAD-CAM has provided CAD-CAM CNC Software products to the global manufacturing industry for over 30 years. BobCAD-CAM software can be found to increase CNC productivity for many applications in aerospace, automotive, production manufacturing, mold making, general machining, woodworking as well as the medical manufacturing industry, consumer products, musical instruments, custom fabrication, defense industry and many others due to the products ability to automatically generate NC programming code for such a wide variety of CNC controllers. BobCAD-CAM software is also found in educational institutions throughout the world as well as independent hobby home use. Products include machining technology for 2, 3, 4 & 5 Axis CNC Milling, Routing, Waterjet, Plasma and Laser machines as well as 2 Axis CNC Lathe. BobCAD-CAM is modular allowing shops to start off at a reduced technology level and add technology as it is needed including an add-on, BobART, for artistic machining. Unique technology includes adaptive high-speed machining multiaxis milling and routing which is a first in the world of CAD-CAM software. BobCAD-CAM also provides a variety of quality training products that include regional and online training classes or private sessions tailored to specific applications. Professional certification and multi-tiered support solutions are available. Contact BobCAD-CAM directly for more information at 877-262-2231 or 727-442-3554
New Feature Spotlight – Tell us the topics that are most important to you Click Here