Faced with your first 3D project, trying to figure out what to do next? Join us this week to learn what 3D CAD-CAM is and when to use it to program your CNC machine. Based on our training event topic survey, 3D milling remains the most requested topic, so this week's blog topic and training event is about 3D CAD CAM, Want us to cover something different next time? Click here to take our topic survey. 
BobCAM For RHINO V3 What's New?  
What is 3D CAD-CAM
3D CAD CAM is a term used to describe CAD CAM software that is specific to 3D design and 3D machining, including specific tools, features, and options used to aid and optimize the programming of 3D geometry in a subtractive manufacturing process. Cutting tools are used to remove stock material to reveal the final workpiece.  3D geometry like a single surface, or a SOLID model, or a combination of both surfaces and solids are used to define the workpiece geometry.  From there, a series of 3D toolpath operations/strategies are applied to remove material. Specialized strategies are used based on the shape of the geometry.  For example, steep and shallow areas each have toolpath operations best for each.  Use the toolpath matrix to learn about each toolpath operation.
2D vs 3D CAD
If the geometry you are working with came to you as a DXF or DWG file which, when opened, displayed points, lines, and arcs; you are working with wireframe geometry also known as 2D geometry or 2D CAD.  This geometry, often referred to as " sketches",  is geometry you'll use to drive 2D machining features when creating holes, cut around shapes or removing material from a boundary, also known as pocketing.   When using 2D CAD CAM, the programmer uses these sketches to contain or drive their cutter along, around, or inside of these sketches.
If the geometry you are working with came to you as a IGES, STEP or SAT file, which opened as rendered geometry; you are working with surfaces and solids also known as 3D geometry or 3D CAD.  This geometry often referred to as "surfaces, solids, or models" is geometry you used to drive 3D machining features when creating roughing, semi-finishing, and finishing cutting strategies used in programming with 3D CAD CAM.
2D vs 3D CAM
2D CAM limits cutting power to up or down and around in 2 axis. Use your wireframe drawings or imported files like DXF or DWG.  Profile, Pocket, Engraving, Facing, Area Clearance, and Spiral are common terms used to describe 2D operations when your tool follows around or stays inside of your sketches.
3D CAM expands your cutting power to 3-axis simultaneous motion.  Using your surface /solids models or imported IGES, STEP or SAT. Z level, Planar, Sprial, Equidstant, Adaptive, flowline, and morph are common terms used to describe 3D operations when your tool moves in 3D to follow around and along your surface / solid model in X and Z, Y and Z or X Y and Z at the same time.
Based on our training event topic survey 3D Milling is the most requested topic; users want to learn about features that help save them time.
3D CAD-CAM Stock Wizard
This is a critical step for any 3D CAD CAM software, aligning the part geometry, stock, and work offset position.  Using a stock wizard helps speed up this process allowing for a quick way to define your starting stock geometry for the job.  There are 6 types of stock commonly supported by all BobCAD CAM, and BobCAM products to accurately and quickly setup stock geometry.
3D CAD-CAM Job Templates
Using Job Templates speeds up programming capabilities while creating consistency.  When you capture and reuse your CAM Tree,  you are saving the job tree, machine and post, stock, tools, and machining features simultaneously and with one click.
Starting 3D CAD-CAM Jobs From Scratch
Establish every aspect of the job, from the type of job, machine, post, tools, stock geometry size and location, machine setup location, and every machining feature needed to complete your project. This includes many steps and options that are specific to the type of job, material,  machine or programmer's preference.  New jobs or projects can have hours of consideration taken for how to approach the job, tools to use, and the settings best for the material and setup.
Starting  3D CAD-CAM Jobs from Template
When you start a job from a template, the CAM Tree is pre-populated, making for a selected and edit workflow. Reusing your CAM Tree and all its settings from a previous job to speed up your next similar project.
3D CAD-CAM Work Offset & Toolpath Patterns
If you are programming one, you might need to program multiple.  Either due to getting past the test and tune stage of any new project, or taking your project to production levels, using patterns is one way to get more done in less steps.  Create one and pattern the rest is the gist of this 3D CAD CAM feature.  What's the difference between a work offset and a toolpath pattern?
Toolpath Pattern
Use a toolpath pattern when working in a single setup.  All copies of your toolpath will be posted in a single work offset number.
Work offset Pattern
Use a work offset pattern when working in multiple setups.  All copies of your toolpath will be posted in different work offset numbers.
3D CAD CAM Start Point Control
Unlike the point-and-click lead in out location control of 2D profiles, when it comes to 3D CAD CAM, you don't have the same control as 2D,  to start cutting in 3D is a little different.   New toolpath options for start point control are now available for mill professional users, providing a pick your corner start location option for many of the popular 3D toolpaths.    Make sure to join us this week to see how this works in action.
.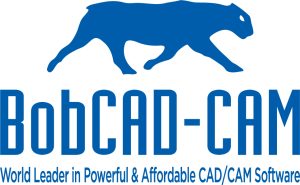 Join us every Wednesday @ 1:00 PM EDT
Live Weekly Training, just one of the perks of membership.

Changes applied in recent releases represent a significant saving of programming and machining time; for this reason, we recommend watching all the training videos, attending all of our webinars/training events, read our blogs, and use your online training.  BobCAD is constantly evolving, you may be wasting time and money just due to your lack of knowledge.
Thank you all very much and we look forward to seeing you at the next webinar on this topic:
BobCAM for RHINO V3 | What New 3D Milling: April 12 @ 1PM
Related Video(s)

Getting Started Online Classes  – Sign up here it's Free. 
Which toolpath options come with what packages?
Use the toolpath matrix and see what options come with what packages.
Questions?   Call Us  @ 727-442-3554