December 8, 2011 – BobCAD-CAM delivers financial support for local Clearwater Community Volunteers group and their 19th annual Winter Wonderland.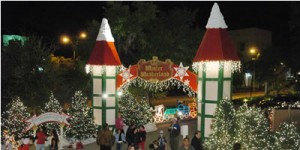 Winter Wonderland is in its 19th year in downtown Clearwater, literally drawing thousands of people to visit every year.
To the local community, our holiday village has the purpose of being a food & toy drive for the needy in our community, in addition to creating a wonderful holiday experience for children of all ages, and to create the magic of the season.  Winter Wonderland is an entire holiday village that takes 5 weeks to build each year, is open for almost three weeks beginning December 2nd. During the time Winter Wonderland is open we raise and donate more than a ton of food to The Homeless Emergency project, as well as a truck full of toys to needy children during the Holidays. The village is open each evening 6pm thru 9pm and on weekends 4pm thru 9pm and we have over 5,000 visitors from all over the Tampa Bay area each year. We also open during the week for a few very special programs, such as the Safety Harbor Middle School Special Needs Kids, the Police Activities League, The Boys and Girls Club of Clearwater, The Haven, Make a Wish Foundation and Kimberly Home with free tickets to all attractions and for many, many children Winter Wonderland is the only holiday joy that they receive.
Clearwater Community Volunteers has no paid staff and is run entirely by volunteers who put in more than 6,000 hours on Winter Wonderland alone. These volunteers also work all year round on fundraising to be able to provide this wonderful holiday experience for the community lit up with lights on over a 100 Christmas trees.
Happy Holidays from everyone here at BobCAD-CAM!