BobCAD-CAM, Inc. Director of Education Dane Pendleton is the driving force behind the new Manufacturers of The Future program supporting schools, teachers and students with CAD-CAM technology incentives. He is now reaching out to US servicemen and women with manufacturing automation technology to help them learn and use the latest in CAD-CAM technology. Thus, giving them the edge they need to be successful in manufacturing.

Delivering Freedom & New CAD-CAM Technology for the Future of Manufacturing
Dane Pendleton is no stranger when it comes to defending our freedom. As a former US Armed Forces service man, he has extensive experience and time overseas with 5 years in the US Army and a 15 month tour in Baghdad with more than 300 patrols that included combat missions. He runs the education programs that BobCAD-CAM offers, such as Manufacturers of The Future for education.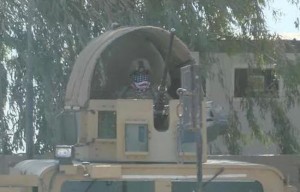 "I have always had attention on how I can help soldiers transitioning out of the Military and now I can actually do something about it. I am just like many other service men and women with the appreciation of work coming back to the US. With the manufacturing industries growth over the past 3 years, is a perfect place to look," says Pendleton about his purpose in helping service people who are returning to civilian work after service. He continued to say, "I want to help all military personnel transition into these programs, whether it be through the military, college or vocational schools."
Manufacturing The Future with CAD-CAM in Education
The existing Manufacturers of The Future program has been able to accomplish things for educators and students alike that have never been done before with computer aided design and manufacturing software. CAD-CAM software accelerates the part programming phase of CNC manufacturing through a wide range of machining wizards for creating machine toolpaths and NC/G-Code programs for 2.5, 3, 4 & 5 Axis CNC Milling, Routing, Laser, Waterjet, Plasma, Burning and CNC Lathe machining.





Schools that teach design and machining all have strict budgets for software. The Manufacturers of The Future program makes sure that schools and teachers have easy access to the CAD-CAM technology they need to educate successfully. The program is followed up by a "Work-Ready" incentive to ensure that graduating students can enter their new manufacturing workforce with the software they learned on, helping to make them successful. While these educational programs have primarily focused on manufacturing schools and students, Dane has now expanded them to include armed forces service men and women that are interested in learning computer aided technology for design and manufacturing job markets that they wish to be a part of.
"I want to help all military personnel transition into these programs, whether it be through the military, college or vocational school. To do this, I have expanded my efforts to include defense and the Armed Forces including the United States Army, Navy, Marine Corps, Air Force and US Coast Guard so that service people have the CAD-CAM software and training they need to be super successful when they enter manufacturing," said Pendleton about the programs new expansion.
The US Army's "Soldier for Life" Transition Assistance Program is a perfect place for the Manufacturers of The Future program as they are an excellent fit to help service men and women get started. Military service men and women that are interested in getting into manufacturing will need CAD-CAM knowledge and software if they will be designing or CNC machining. Existing Department of Labor transition workshops should include this program as part of the solution. Airmen and Family Readiness Centers, Fleet and Family Support Centers, Marine Corp CRMC and US Coast Guard Worklife Division Transition Assistance programs are all available to help military people transition into education and careers. "We are actively connecting with all of the existing military transition programs to brief them on what we are providing which is very exciting," commented Pendleton on joining forces with the existing government programs.
The Manufacturers of The Future program is assisting soldiers who are interested in the manufacturing field by supporting their needs. This includes loading up all of the schools that teach manufacturing automation and CNC programs with software and training solutions for teaching and learning so that schools have what they need without having to have big budget approvals for it. "It should be very easy to teach and learn modern CAD-CAM whether it's for a military personnel or not," adds Pendleton.
BobCAD-CAM is CAGE Certified through SAM.GOV Cage Code: 5QoT8

To find out more about the Manufacturers of The Future program for your school or yourself, call 877-262-2231 Ext. 141 today and speak directly with Dane Pendleton. You can also visit bobcad.com for more information and get a free CAD-CAM software download.

Other related articles that you may be interested in: