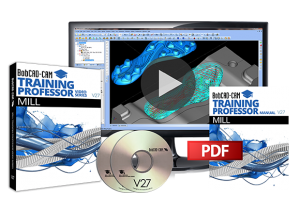 BobCAD-CAM is proud to announce the release of the new V27 Mill CAD-CAM Training videos just in time for the holidays! Staying true to tradition BobCAD-CAM has always offered training videos so that customers can learn the latest in their CAD-CAM technology. An advantage to using training videos for accelerated learning is that they are portable. You can learn everything about the CAD-CAM software in the comfort of your own office or on the road.

Simply look up the video in the index booklet by topic and then put that CD in your player and learn all about the featujres you need to master.
Investing in CAD-CAM technology is one thing. Mastering how to use it is another and this is why the training videos are as popular as they are for each BobCAD-CAM core product and add-on.
The Training Professor Book & Video Series contains:
Digital Workbook (Acrobat PDF) with Training Lessons
Video Box Set of CDs with 170+ Individual Training Videos
Corresponding training CAD files included on the CDs
The training lessons also cover all machining operations including Dynamic Machining Strategies™, post processing, CAM cutting condition set up, tools, materials, and much more.
DESIGN parts from start to finish.
Use TOOLPATH PROGRAMMING strategies to speed part programming.
SIMULATION enables you to avoid costly mistakes.
The detailed digital workbook guides you step-by-step through each lesson and includes a library of pre-made CAD files that correspond to the workbook tutorials.