BobCAD-CAM announces they will be exhibiting their CAD-CAM technologies at Houstex 2015 Booth #2119 on February 24-26 in Houston, TX. BobCAD-CAM software is used in the CNC programming phase of CNC machining to automate the process and provide functionality that streamlines part-making.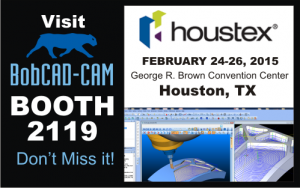 BobCAD-CAM, Inc has provided the global manufacturing industries with CAD-CAM software for 2.5, 3, 4 & 5 Axis CNC Machining for almost 30 years. Based in Clearwater, Florida the company continues to develop manufacturing automation software that is used for programming 2D & 3D parts for CNC machines in many sectors for a wide variety of applications that range from consumer products to aerospace and automotive manufacturing among them.
This year BobCAD-CAM will be exhibiting at the Houstex 2015 show at the George R. Brown Convention Center in Houston, Texas on February 24, 25 & 26 in Booth #2119. Thousands of North American manufacturers will be attending the Houstex show to discover new productivity solutions that are supporting the growth of a rebounding manufacturing industry in North America. BobCAD-CAM represents manufacturing automation solutions in design and CNC machining. Their CAD-CAM software streamlines the process of designing a part and transitioning to toolpath programming for CNC machining, simulation and then outputting the numeric NC program that is then sent to the CNC machine tool for cutting.




This year BobCAD-CAM V27 CNC software highlights at the show will include:
– Dynamic Machining Strategies® for applying multiple machining operations to CAD features.
– High Speed Adaptive Machining Technology
– Machining Wizards for 2.5, 3, 4 & 5 Axis CNC programming that remove the guesswork by stepping the operator through the process.
– Recently added CAD design features for 2D & 3D modeling.
– Advanced Machine Simulation and associated functionality & benefits.
CAD-CAM for Advanced CNC Machine Productivity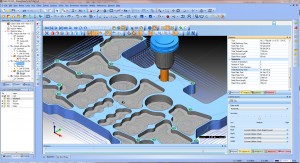 These CAD-CAM technology highlights and others are developed to reduce CNC job lead times, increase CNC productivity and overall simplify the CNC programming stage of manufacturing and CNC metalworking. Live demonstrations can be received at the BobCAD-CAM Booth #2119 along with meeting their staff and much more.
The BobCAD-CAM CNC programming software can be used for CNC Milling, Routing, Plasma, Laser, Waterjet, 2 Axis Lathe as well as 2 & 4 Axis Wire EDM machining. The software is modular which means that manufacturers can use exactly what they need and add 4 & 5 Axis modules as needed rather than have to pay more for technology that will not be used on the shop floor. BobCAD-CAM also provides Artistic CAD-CAM and Nesting, Sheet Optimizing software for custom applications. Be sure to stop by their booth at this years Houstex 2015 .
Register for Houstex 2015 today! Click HERE
For more information on visiting BobCAD-CAM at Houstex 2015 call 877-262-2231 or 727-442-3554.
Try a Free CAD-CAM Demo Today! Click HERE