BobCAD-CAM is proud to announce it will be at Houstex 2015 this upcoming February 24 – 26 in Houston, Texas at booth #2119. Show attendees can come by and see the latest in CAD-CAM software and learn new ways to improve automation technology and streamline CNC manufacturing processes for a wide variety of machining. BobCAD-CAM recently released their V27 CAD-CAM software to the global manufacturing industry offering new CAD Design technology as well as a host of new CNC machine programming operations that are dedicated to reduce both programming and machine cycle times and give machinists more toolpath operation choices for 2D & 3D Roughing and Finishing.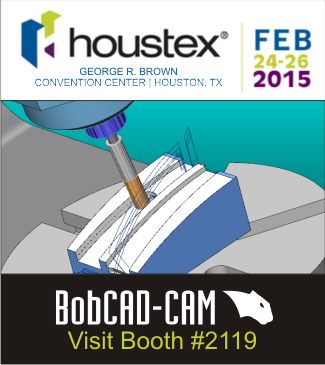 Significant updates were released to the CAD design features of the V27 CAD-CAM software with the addition of an interactive CAD Design Tree where the operator can track design features that are executed and make edits to a part and automatically update a CAD part file, suppress drawing features and more to make drawing and editing 2D or 3D geometry faster and easier. Robust design capabilities include wireframe, surface and solid design and editing, Gear, Sprocket and Cam generators, hole pattern-making as well as the ability to work with text for engraving and part numbering.

The software also provides import translators for SOLIDWORKS, DXF, STL, STEP, IGES and many others enhancing CAD interoperability and streamlining the process of programming with CAM machining wizards.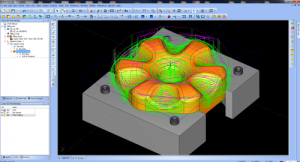 The BobCAD-CAM V27 CAD-CAM product is modular meaning that a shop can add machining capabilities as they grow their business. CNC programming includes 2.5, 3, 4 & full simultaneous 5 Axis CNC machining. Basic machine programming capabilities include a fully associative CAM job Tree. Changes to a program or the part model can easily be updated to save time. Job, stock and machining wizards exist to step the programmer through the process to eliminate any guesswork from CAM programming, provide easy access to customizable tool libraries and access new Dynamic Machining Strategies™ where multiple machining operations can be assigned to a single CAD feature. DMS™ was added to save programming time and give the operator more options to use within the machining wizards.

A highlight of the CAM programming world is their new Adaptive High Speed machining capabilities and Advanced Roughing with Intermediate Steps to remove more material in reduced cycle times and provide a streamlined approach to step reduction for finishing. Combining new REST machining operations to Planar, Z-Level and Equidistant machining operations have also been added to optimize the machining process and ensure that superior finishes can be achieved easier than ever before.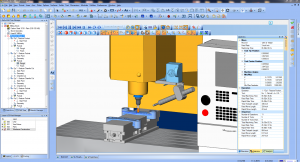 Surface based machining has been added to the BobCAD-CAM V27 which includes undercutting, Morph Between Curves which is also known as Flowline machining has been added to the system as well. All of these CNC machining automation features as well as the high powered Simulation Pro system will be shown where the machinist can add their machine kinematics to the software in able to simulate machining with their particular CNC machine tool, calculate machine cycle times and more will all be demonstrated at Houstex.
BobCAD-CAM also provides CAD-CAM technology for 2 Axis CNC Lathe and 2 & 4 Axis Wire EDM machines. You can also see live demonstrations of their BobART, artistic CAD-CAM add-on for turning art into 3D relief models for machining as well as their Nesting & Sheet Optimizing add-on for automatic part nesting.
Don't miss BobCAD-CAM at Houstex Booth #2119 and learn everything you can about Design & Manufacturing CAD/CAM automation technology and how to improve your machine shops productivity and performance. You can contact BobCAD-CAM for more information at 877-262-2231 or 727-442-3554.
Try a FREE BobCAD-CAM Trial HERE