With the release of BobCAM for Rhino V3, all of BobCAD-CAM's products are now on the same development track, allowing all users to experience improvements faster. What's New for 2D Milling features with BobCAD-CAM? This week's training event will focus on New 2D Milling features found in BobCAM for RHINO V3, BobCAM for SOLIDWORKS V10, and BobCAD CAM V35.
BobCAM For RHINO V3 What's New?  
2D Milling Hole Recognition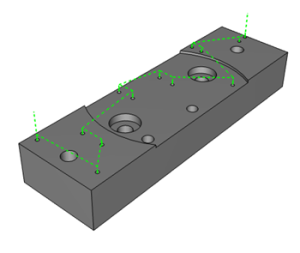 Program holes in seconds using recognition, it automatically reads the hole size(s) and type(s) of any solid, even if it's an imported one. Click to watch a video and learn more…
Why Hole Recognition?
Selecting and processing holes of different sizes and types can really slow down your 2D Milling programming.  Finding and drilling specific hole types and sizes is made easier with the automation benefits of recognition.  Using your solid model and BobCAD's knowledge base ( which is customizable ),  find and program holes faster!  This New 2D milling feature makes selecting and programming holes of any size and type easier in less time and with less frustration.
Benefits of 2D Milling using Hole Recognition
Recognition adds automation to selecting, sorting, and processing hole types and sizes when working with solids.
2D Milling Lead In/Out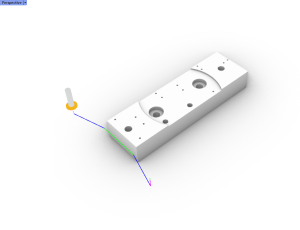 Control where you start and end cutting with New lead in and out settings.  Choose from automatic start in the center of holes, or choose your own start and end location using selected points. Click to watch a video and learn more…
Why New Lead In/Out Options?
At times it can be tricky to start where it's safe to drop down and get into and out of the cut.  Using point locations and starting from the center are two new lead options available in our current versions that make this easier for you.  You can now enter or exit precisely where you need when selecting point locations.  In addition, using points as start and stop locations, you can now lead in and out automatically from the center of your selected geometry.  This is great for finishing passes on holes of different sizes, ensuring you start from the center of the hole regardless of the size of the hole.  These new options for 2D Milling help you lead in and out safely with less steps.
2D Milling Profile Cutting Patterns
Keeping your tool in the cut with new zig-zag cutting patterns and options to optimize your 2D Milling features. New to BobCAM's profile patterns are new options to reduce cycle time and air cutting.  You can't always cut in two directions due to material, tooling, and equipment constraints, factors you may or may not have control over.  When it comes to programming your 2D Milling profile cuts, you can now choose zig-zag cutting when setting down in Z or side roughing.  What about your finish pass?  You find a new check box option for spring passes, turn it on and enter the number of spring passes you would like.
Why New profile cutting patterns?
Roughing or finishing profiles must be the second most common operation other than drilling holes and with each release, we included new options that make profile cutting easier.  Adding options for profile zig-zag cutting leaves limitations on the job, tools, or equipment and not on the CAD CAM and g-code programming.   Giving you new ways to solve old problems.
2D Milling Tool & Operation Managers
Gain new organization and editing tools specifically for tools and operations.  Users now have 3 tree's in the CAM, your CAM Tree with setup locations and features, your tool tree for all tools associated with the job, and the new operations manager for individual editing and optimization of unique operations.  Drag and drop, multi-select, and new editing/updating tools that speed up your 2D Milling jobs.
Why a New tool and operations manager?
You use lots more tools and operations as your jobs get more complicated.  Keeping everything organized while making it easier to update for tool changes and re-ordering optimization is what these new CAM Tree's bring to the table.  If you are looking for the machining order dialog, it's been replaced by these two new CAM Tree features that put more power in your hands, adding flexibility and control over tooling, posting order among other things.
2D Milling Feed Rate Control
With cutting tools at the highest price ever, reducing your feedrate in high contract areas is critical for tool wear reduction and machine efficiency.  Stop wasting your money and reduce your tool costs by over 40% with new control to automatically speed up and slow down when needed.
Why New feed rate control?
If you run too fast, you break tools, if you don't run fast enough, everything slows down. What tools does BobCAM offer to speed up and slow down your feedrates where and when they are needed?   Corner slow-down options are added to 2-axis profile cutting, while standard, volume-based, and radial chip thinning feed rate mapping is added to pocketing.  New controls over lead in and out feed %, rapid moves, and other settings to improve feed rate control over 2D milling operations/features.
.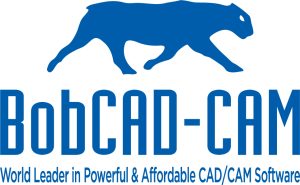 Join us every Wednesday @ 1:00 PM EDT
Live Weekly Training, just one of the perks of membership.

Changes applied in recent releases represent a significant saving of programming and machining time; for this reason, we recommend watching all the training videos, attending all of our webinars/training events, read our blogs, and use your online training.  BobCAD is constantly evolving, you may be wasting time and money just due to your lack of knowledge.
Thank you all very much and we look forward to seeing you at the next webinar on this topic:
BobCAM for RHINO V3 | What New 2D Milling: April 5 @ 1PM
Related Video(s)
Getting Started Online Classes  – Sign up here it's Free. 
Which toolpath options come with what packages?
Use the toolpath matrix and see what options come with what packages.
Questions?   Call Us  @ 727-442-3554