Streamline the design process for hole creation by using BobCAD's design package which includes a hole wizard. Offering powerful and user-friendly hole creation tools,  BobCAD empowers designers to create holes with ease and efficiency, ultimately improving overall design quality and productivity. Ensuring design accuracy, and enhancing the user experience, to better meet growing market demands.

Why use a Hole Wizard For Design?
You can use Advanced Holes to design holes in 3D like a countersunk holes with specific angles, diameters, and depths.  You just need reference points for hole locations, and this new design tool automatically generates the corresponding 3D geometry and captures important design details like tip angles on blind and cross holes, resulting in time savings while ensuring accuracy during the hole(s) design process.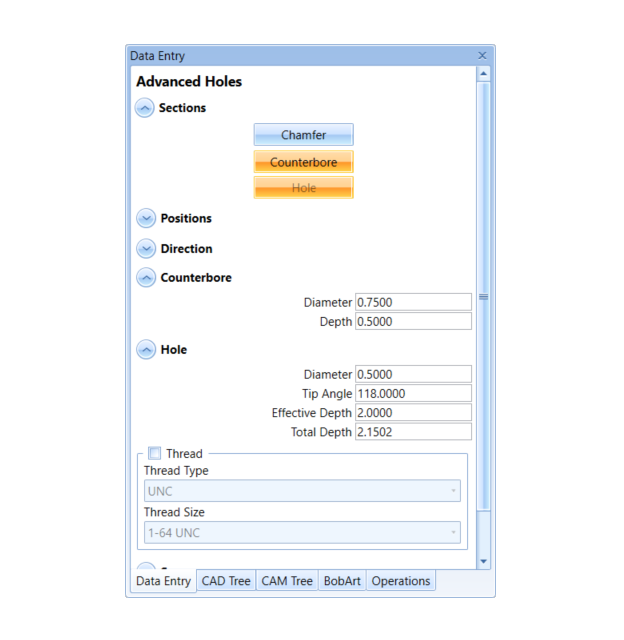 Do Wizards Make Design Changes Easier?
When using a hole wizard, the software establishes a relationship between the hole feature and other design elements, in this case, point locations. When a design change occurs, such as modifying the location(s) of holes, the hole wizard makes it easy to remove or add new locations using this section of the wizard.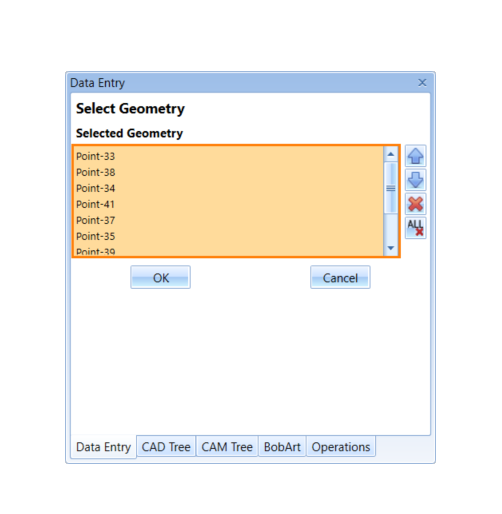 As you highlight points listed in your selected geometry window, the corresponding point will highlight in the CAD space, this preview makes it easy to see which position you've selected, from there you can use the red x to remove that location from the point list and your design.  After changes are made to your locations, rebuild your design to see your update.
Quick Modification Options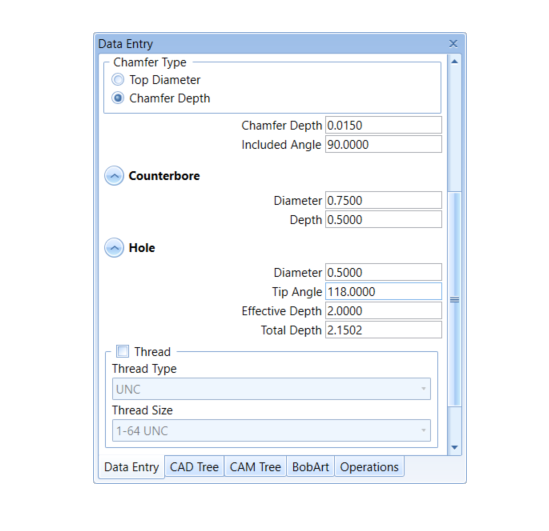 BobCAD's Hole wizard provides an intuitive interface that allows you to modify holes easily. Within the wizard, you can access specific parameters, such as hole size, depth, or type, and make changes directly.  On exit, the software rebuilds the model with your modified settings. This simplifies the process, even for complex hole configurations, and allows for efficient design iteration.
Integration with CAM Features
BobCAD's Hole wizard will pass user-defined thread information seamlessly to the CAM when selecting geometry for hole drilling cycles.  For example,  if you use the hole wizard and define 1/4 20 tapped hole , when selecting the hole for drilling, the software will know it's a  1/4 20 and load the correct tap and pre-drill tool automatically. Allowing you to define thread information in your design used in CAM.

Many resources are available for learning hole wizards for design.
These include online tutorials, user forums, one-on-one, and professional training seminars.
Free Weekly Training Click Here |  1 PM EDT
Over the last 3 years, over 200 new features were added to our CAD CAM software.
Join our weekly training to learn what's New with BobCAD-CAM, BobCAM for SOLIDWORKS, and BobCAM for RHINO.
Are your machines and projects getting more complicated?
Call 727-442-3554 to learn about the New BobCAD CAM.

Related Video: