BobCAD-CAM Online Training
Online one-on-one training in the comfort of your office!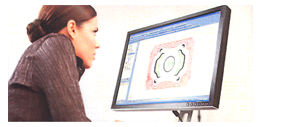 When it comes to BobCAD-CAM training, what better way than a training schedule that works for you, in the comfort of your own office, and is extremely affordable for anyone.
The online training is conveniently done in hourly increments around your schedule to minimize disruption of production. Receive 1 on 1, live instruction on the computer and via Headphones or a Microphone and Speakers from one of our training specialists. Available for BobCAD-CAM,  BobCAM for SolidWorks™, and BobCAM for Rhino™.
** Note – Either Headphones with a Microphone or a Microphone and Speakers must be used in order to record the session **
Standard Costs:
$200.00 per hour
Multi-hour discounts packages are available
Available Course Topics
CAD
2 Axis Milling
3 Axis Milling
4 Axis Milling
5 Axis Milling
Mill Turn
Lathe
Wire EDM
BobART
Laser, Plasma and Waterjet Specific Settings
Due to the high demand in the delivery of online training hours we ask that you keep your scheduled session. If in the event you need to cancel or reschedule please contact us as soon as possible. Once you are within 48 hours of your scheduled Training session, we offer one courtesy cancellation per customer. Additional cancellations made within 48 hours of a scheduled training will result in the loss of your training hours. To cancel or reschedule your online training hours please contact 727-489-0003
BobCAD-CAM Training Department
Toll Free: 877-262-2231
Local & International: 727-442-3554