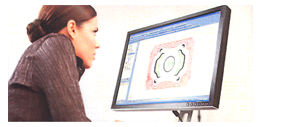 When it comes to BobCAD-CAM training, what better way than a training schedule that works for you, in the comfort of your own office, and is extremely affordable for anyone.
The online training is conveniently done in hourly increments around your schedule to minimize disruption of production. Receive 1 on 1, live instruction on the computer and via the telephone from one of our training specialists. Available for BobCAD-CAM & BobCAM for SolidWorks™.
Standard Costs:
$200.00 per hour
Training recorded for an additional $50
Multi-hour discounts packages are available
Available Course Topics
CAD
2 Axis Milling
3 Axis Milling
4 Axis Milling
5 Axis Milling
Mill Turn
Lathe
Wire EDM
Nesting
BobART
Laser, Plasma and Waterjet Specific Settings
Advanced One-on-One Online Training
$800.00 Includes 2hr session, the pre-requisite Online Course + Recordings
Our Advanced Online Training is to specifically help with programming a specific part and will include a video recording of the session. Advanced Online Training is booked in 2 hour Sessions. Part files worked on during the sessions will be provided in a digital format. Part files or drawings to be used during the training session must be received at least 24 hours in advance. Must complete pre-requisite Online Training Course prior to start of Advanced Online Training.
BobCAD-CAM Training Department
Toll Free: 877-262-2231
Local & International: 727-442-3554