V28 Lathe Training Professor Video Series
The V28 Lathe Training Professor is a complete training solution designed to help you master your CAD-CAM CNC Lathe programming. The learn at your own pace video series covers all the time saving tools and advanced machining functionality within the BobCAD-CAM software for turning.
The training set includes:
124 Individual Training Videos (DVD)
471-Page Digital Training Manual (PDF)*
Corresponding CAD Training Files for On-Screen Lessons
*Hard copies of the training manuals are available separ

The video series provides simple how-to instructions on using the new V28 CAM features for Lathe programming. Additionally, it covers the innovative features that BobCAD-CAM has developed over the past 30 years, including the software's wizard driven interface, Dynamic Machining Strategies™, 2 axis lathe cutting strategies, simulation features, and much more.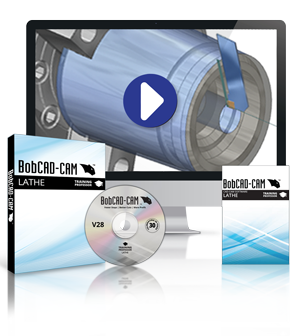 Using this product, you'll learn how to:
Apply Powerful Toolpaths
Utilize the Full Capabilities of CAD
Create Wireframe, Solids, & Surfaces
Avoid Costly Machine & Tool Collisions
And Much More!
The detailed digital workbook guides you step-by-step through each lesson and includes a library of pre-made CAD files that correspond to the workbook tutorials. Lessons are self-contained and portable so you're able to learn what you want, when you want, where you want.