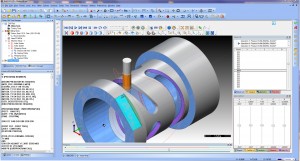 Evaluating a 3D CNC software free demo is a great way to discover how to improve the CNC manufacturing productivity for your shop. CNC machining technology has provided huge benefits to part making over the years. The automation factor allows shops to stay lean and profitable in CNC programming from small parts manufacturing to aerospace and the automotive industry. Manufacturers can deliver parts faster and for less when employing computerized CNC programming technology.
CNC Software benefits include:
– Faster CNC Programming times.
– Improved CNC Cycle Times.
– The ability to Streamline Productivity.
– Improved Part finishes.
– Reduction in scrapped material/Costly waste.
– Efficient NC Programs.
– Flexible Posting for multiple CNC machine tools.
– Shorter learning curves for new CAD/CAM programmers.
With the days of manually programming CNC practically gone, shops are looking for higher level automation for CNC machining. The latest 3D CNC software free demos allow shops to evaluate how functionality such as the BobCAD-CAM Dynamic Machining Strategies™ that allow an user to apply multiple 3D CNC machining strategies to a single CAD feature. The DMS functionality not only saves time in programming but allows the user to select High Speed adaptive cutting toolpaths to take deeper cuts and higher speeds. These high speed strategies can greatly reduce machine cycle times. The Equidistant Offset and REST machining operations come behind and finish off complex 3D models faster and more efficiently than with earlier CNC Software releases. Newer users can take the machining Wizards for a test drive on 2D or 3D parts. Machining wizards step the user through all of the necessary stages of programming their parts making it a profitable experience in terms of improving programming time.
MultiAxis CNC machining toolpaths can be created with a demo allowing users to evaluate highly complex machining technology. A 3D CNC software free demo will allow the user to evaluate cutting strategies and how the CNC software flows the user through setting up a program from stock preparations through to simulation and generating a posted g-code program for a wide variety of CNC machine tool controllers. Tool libraries are included in the 3D CNC software free demo and are even customizable. Basically a CNC shop can see how easy the product is to work with and achieve the simulation of an imported and machined part. CNC machining automation includes all areas of the part making process including hole drilling operations. Users can evaluate multi-tool drilling operations that use multiple strategies in one operation such as a center drill, drill and chamfer in one operation.
Test out the latest in CNC automation with a 3D CNC software free demo today!
Download a 3D CNC Software FREE DemoHERE.