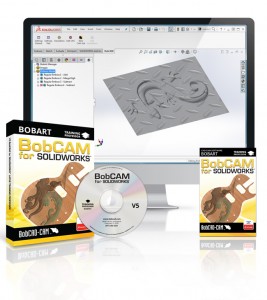 BobCAD-CAM, Inc., a world leader in cutting edge CAD-CAM software, has released a training video set for the company's new BobART module, an artistic plug-in for SOLIDWORKS™.
New Artistic CAD-CAM Power
New to the BobCAM family of SOLIDWORKS plug-in products, BobART brings and entirely unique set of creative toolsets that allow SOLIDWORKS users to apply artistic elements to CNC manufactured products. Popular in creative machining industries, BobART is typically used by sign makers, custom wood workers, jewelry designers, instrument manufacturers, engravers, mold makers, and many others.
As the first artistic CNC machining plug-in of its kind for SOLIDWORKS, BobART gives its users an easy way to work with artistic elements and opens the door to new revenue generating activities through expanded product offerings and increased opportunities for up-selling.
New Way to Learn About Artistic Machining
As part of the BobART launch, BobCAD-CAM has compiled a comprehensive video training series to break down artistic programming by individual features. The training videos also include a digital workbook, example CAD files, and follow-along tutorials so users can master artistic programming in an intuitive, progressive way.
"Your typical imported artwork isn't natively compatible in SOLIDWORKS," explains Walter Czyrsky, Technical Director at BobCAD-CAM. "That's where BobART helps. It makes it easy to transform everything from images, logos, and scanned artwork into sketch geometry right inside SOLIDWORKS. Ever since its initial release, BobART has been one of our most popular add-on products and we're very excited to finally be able to offer this artistic plug-in to SOLIDWORKS™ users."
The new training set includes 34 individual videos and a digital workbook, which covers everything from converting image files to sketch geometry and creating 3D embossed models to applying CAM toolpaths and creating chiseled finishes with v-carving tools.
Availability
BobART for SOLIDWORKS and the new training series are available now at BobCAD-CAM Online Store.
Try BobART Artistic CAD-CAM Now
Click HERE to download a trial copy of BobART for SOLIDWORKS.
About BobCAD-CAM, Inc.
Clearwater, FL | www.BobCAD.com
BobCAD-CAM develops advanced CAD-CAM software solutions that allow anyone, regardless of experience level to design and machine parts with the power to change the world. Known for its ease of use and affordability, BobCAD-CAM software helps everyone from the aerospace engineer and medical manufacturer to the home shop machinist and hobbyist manufacture precision cut parts on nearly any CNC machine.
Press Contact: Chris Corbell | BobCAD-CAM | [email protected] | 877-262-2231
Here are some related CAD-CAM articles you may also be interested in:
Summary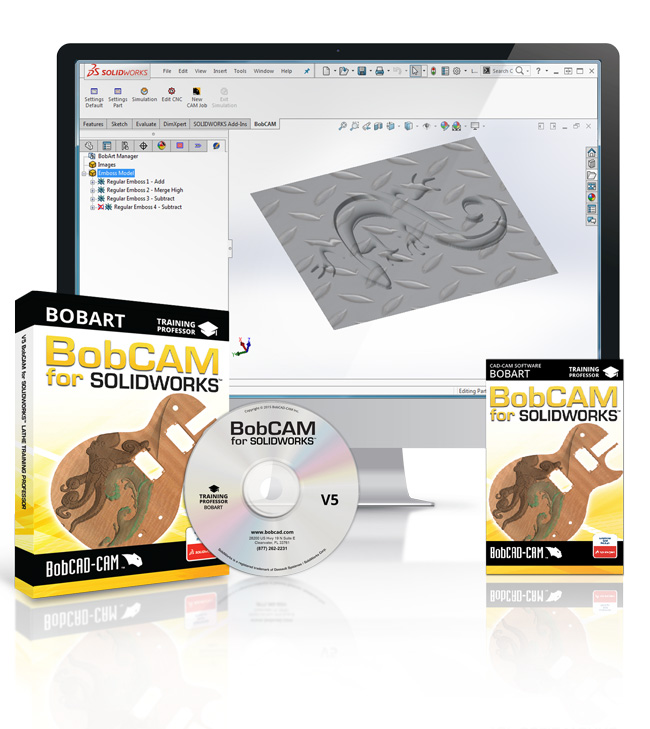 Article Name
BobCAD-CAM Releases Training Videos for BobART, a New SOLIDWORKS™ Artistic CAD-CAM Plug-In
Description
BobCAD-CAM releases a new video training series for BobART, the first artistic CAD-CAM plug-in product of its kind for SOLIDWORKS™.
Author
Nick Erickson | BobCAD-CAM