CAM programming features in the new BobCAD-CAM offers the power, efficiency, and flexibility machinists need to complete jobs in less time, without sacrificing quality. It's possible thanks to DMS™, or Dynamic Machining Strategies™, which is one of the best systems in the industry for reducing clicks, improving workflow, and speeding up the overall programming process.
CAM Programming Power
With DMS, you're able apply any number of machining operations to a single CAD model feature and edit operations on the fly. Load anything from a single roughing strategy to multiple roughing and finishing strategies in single operation in the CAM Tree. This feature is integrated with the Machining Wizards to help eliminate programming guesswork and optimize the workflow.


The resulting benefit is a significant savings in programming time since DMS eliminates repetitive geometry selections. You won't find this feature anywhere else in the CAM industry for the same affordable price.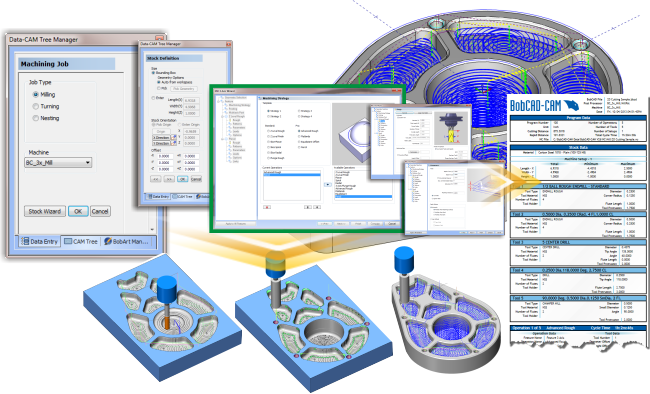 In previous versions of the software, machining strategies had been fixed based on the types of operations available. The new BobCAD-CAM can support multiple dynamic operations via DMS on a feature level. A "feature", by definition, is part of the CAD model pertaining to the geometry. When a model is loaded, users may choose any combination of machining operations to a single feature to cut the desired geometry.
For example, if you want drill a hole, you may need to use a smaller drill to pre-drill. With our new CAD-CAM, there's no need to edit the tool pattern to add the pre-drill hole. Instead, you simply add an additional drill operation to the hole "feature." This concept is the heart of DMS.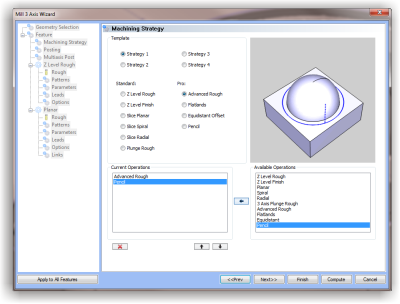 In addition, DMS delivers improvements to CAM programming workflow for 3, 4, and 5 axis machining. For example, you may add several finishing passes by simply adding operations to the feature. Operations do not share parameters, allowing for independent control over each operation. For example, you're able to have your finishing operations start at a different location from your roughing operations, without using multiple features.
Dynamic Machining Strategies delivers the flexibility and efficiency you need make better programs and save time on every job.
Try DMS Now


One-On-One CAD-CAM Software Demo
Want to learn more about DMS and other ways to reduce programming times? Sign up for a personalized one-on-one demonstration today.

Here are some related CAD-CAM articles you may be interested in:
Summary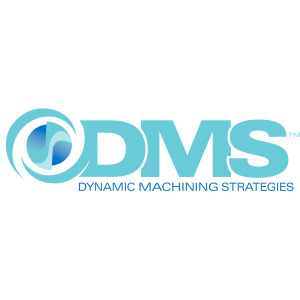 Article Name
CAM Programming Efficiency of Dynamic Machining Strategies
Description
Learn how Dynamic Machining Strategies is taking CAM programming power to the next.
Author
Nick Erickson | BobCAD-CAM