CAD-CAM technology is generally used in automating the CNC machining & programming process. CNC Machining is called, Subtractive Manufacturing. In recent years emerging technologies in 3D printing has taken the world by storm, blasting open the door to endless Additive Manufacturing Innovation, not just Rapid Prototyping any more. 3D printers are making things with both plastics and metals now that are providing kids, engineers, inventors and manufacturers the ability to produce amazing products with 3D printing machines.
CAD-CAM and 3D printing work together to provide the 3D printer with an STL file to use. Originally in the 1980's, 3D printing was developed for specialized manufacturing and Rapid Prototyping. By 2010, 3D printing was far more recognized as a manufacturing solution and is now known as Additive Manufacturing. Typically an STL file is created and used in the 3D printing process. This means that a CAD STL file is first generated by a CAD Design system and passed to the 3D printer. Generally CAD Design systems allow a designer to draw a 3D solid model and then export the file as an STL (stereolithography) type. This is something that the BobCAD-CAM software can help you with. The primary advantage with CAD-CAM is that there are hundreds of solid & surface modeling features. For example, the BobCAD v27 CAD Design is a hybrid based modeling system allowing you to create with wireframe, surfaces or solids in any order to create a finished 3D model that can be exported as an STL type file.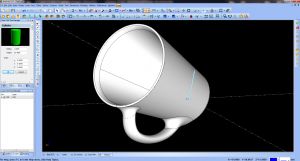 Additive Manufacturing is found in industrial design, automotive, aerospace, defense, engineering, dental and medical industries, fashion, footwear, jewelry, eye-wear, education, geographic information systems, food, and many other industries throughout the world. Additive Manufacturing will not take the place of Subtractive or CNC Manufacturing as the process if far slower and not as precision as current high speed CNC machining processes are. However 3D Printing is here to stay and an excellent way to innovate with CAD-CAM software.
Try a Free CAD-CAM Demo Today! Click HERE
Here are other important articles that you might be interested in to learn more about the advantages of using CAD-CAM Software: