This is part two of a ongoing series on improving cnc programming workflow with CAD-CAM software. For part one, please click here.
So how does CAD/CAM software improve production workflow?  First we have to dissect each stage of making a perfectly finished part with a computer aided design and manufacturing software product.  This process begins with how you acquire and manage your part model.  With today's advancements in hardware design software technology, most cnc manufacturing businesses start with a 3D model of a part either designed by you in your CAD software from a print or provided by a client.  SolidWorks, AutoCAD, Pro Engineer and SpaceClaim are examples of quality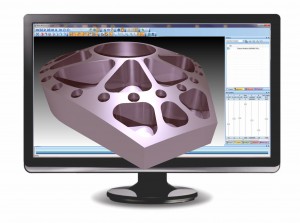 Design products that offer simple, yet highly advanced design and innovation solutions in the world today.  These products are becoming more and more affordable and can even allow teams of designers to collaborate on assembly projects from different locations, solve geometry issues, repair bad or dirty geometry easily and just about anything else you can imagine within the scope of design and innovation.  Therefore it's critical that a CAD/CAM system provide the ability to import or open CAD design files.  These CAD design systems generally have their own native file types such as the SolidWorks SLDPRT type or AutoCAD DGN.  To directly import the native file type would suggest that the likelihood of geometry problems would be slim to none is correct.  The potential for issues can increase once a CAD file has been created and exported into another software product.  Yet, CAD software products do allow users to save designed part files as a type of file that is acceptable to another product easily.  While this is a complete subject in itself, a good quality solid model is a good quality solid model whether it is saved out as an STL file or a STEP file from a CAD system.
Among the most common are STL, STEP, IGES, DXF, DGN, SLDPRT and others.  A CAD/CAM program not only offers import capabilities, they generally allow you to design as well.  Because of this, a full library of drafting and solid or surface editing tools are made readily available in the software in the case that changes take place during production.  Workflow improvements can be achieved through seamless file translation, part orientation in the viewing workspace, part file editing and geometry verification.
Using a CAD design product that offers CAM plug-ins will accelerate workflow efficiency such as SolidWorks and the BobCAM for SolidWorks Gold Partner CAM product.  This means that designed part files do not have to be exported into another CAM product, reducing file, surface and geometry issues and streamlining the design to machining process.
In part three, we will discuss CAM job management and setting up stock.